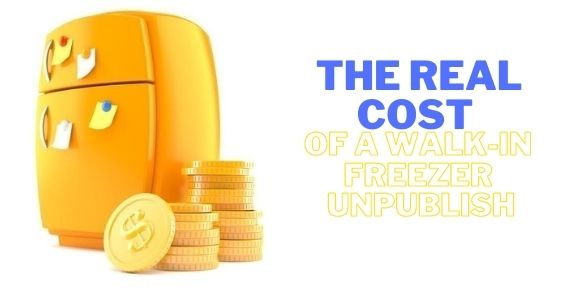 If you need sizable storage space for your perishables, a walk-in freezer might just be the best refrigeration solution for you. Imagine having a freezer the size of a room to store large amounts of meats, dairy, and other periods for longer periods. The large storage capacity of a walk-in enables you to buy in bulk, prevent food waste, and stay fresh and fully stocked for busy days.
If you are thinking about getting a walk-in freezer, it is a good idea to calculate how much it will cost to determine if it is a viable fit for your operation. When we talk about the real cost of this investment, we are not just referring to the price for a walk-in freezer, but also the expenses that come after making the initial purchase. A great way to save money is ensuring energy efficiency in your operation.
All About Energy Efficiency
Walk-in cooler electrical requirements and differ from that of the walk-in freezers. Because they run at a colder temperature range, walk-in freezers will use around three times more watts per day compared to walk-in coolers. Look for Energy Star-rated walk-in freezers that can deliver the cooling power and performance you need while keeping your costs manageable. Some energy-efficient design elements to look for are high-density foamed-in-place polyurethane, LED lighting, and thermal breaks.
What to consider when purchasing a walk-in a freezer
Size
Walk-in freezers come in an array of standard sizes, the smallest being 4 x 5 feet and the largest at 10 x 12 feet. You can also have a unit specially built-in to your establishment, so when you need a warehouse-size built-in unit, you can enjoy this option. The larger the walk-in freezer, of course, the more powerful the refrigeration system it will need to cool the entire space.
That being said, it is important that you choose the correct size. Factors to consider are the maximum amount of frozen foods you need to have on hand, your menu, the frequency of your deliveries, and the length of time a batch of products will be stocked. Three-section freezers usually have more than 70 cubic feet of space. If you will store cases of products, a walk-in will likely be the better-suited solution compared to a reach-in freezer.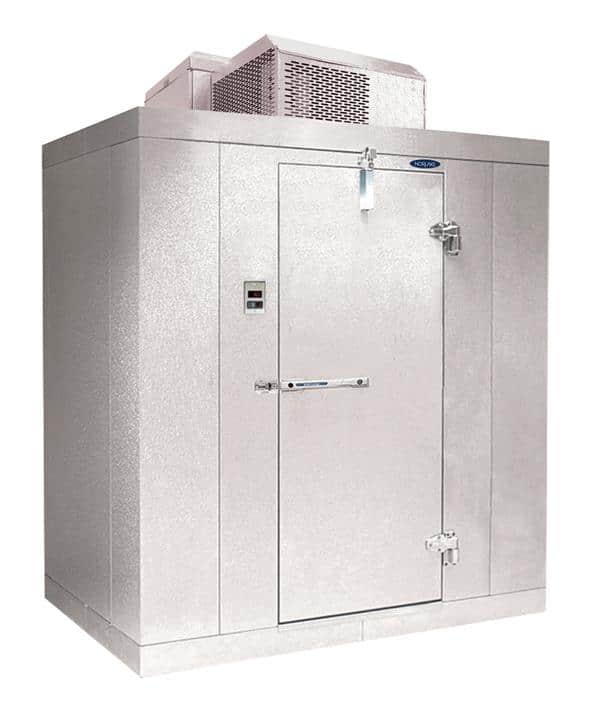 Location and temperature
Temperature monitoring is essential in keeping energy consumption in check, so as much as possible simplify the process of verifying the temperature inside and outside of the walk-in freezer. A walk-in freezer temperature alarm and temperature sensors are features that you might want to have to stay on top of the operation and effectively mitigate costs.
A walk-in freezer will consume more energy to bring the temperature of the products down. So if you place freshly cooked products straight out of the oven, expect to see a spike in the interior temperature, so you might want to consider a unit with higher horsepower.
The temperature outside of the unit will also have an effect on energy consumption, so where you install your walk-in freezer has a real impact on your temperature and the utility bill. If you set your unit in a warm environment, it will use up more energy to regulate the temperature. If it is going next to your cooking equipment, you're likely looking at a temperature of over 85 degrees, which means your unit will need additional cooling power to ward off that heat.
The location also has an impact on the number of defrosting cycles your walk-in freezer will go through in a day to melt ice buildup and restore optimal airflow. The hotter the conditions, the more defrosting is required. In the most favorable conditions, the defrost heater will kick in one to four times a day each one lasting half an hour. The duration of each cycle is controlled by the defrost timer, which is found in most units that use an electric defrost system, which is simple and inexpensive. While it incurs additional energy costs, this process will go a long way in extending the service life of your walk-in freezer. Keep in mind that too many defrost periods is not ideal too.
Frequency of access
How often is the door going to be open on a daily basis? If the answer is most of the day, you might want to increase the cooling power of your unit. Keep in mind that despite the size, a walk-in freezer is the same as standard reach-in refrigerators and freezers in that when frequently opened, the hot air from the outside could make its way to the interior, which will cause the compressor to exert more energy to bring that temperature to ideal levels. Fortunately, walk-in freezers can be opened less frequently by transferring products to your small reach-in units in your kitchen or back of the house.
Assembly and installation
Prefabricated units are not as costly to install, but you will still need an electrician to handle the electrical wiring. If you are installing the walk-in freezer outside, you will likely need an insulated floor to keep insects, and pests from entering. The outdoor walk-in unit will also require protective accessories to stand up to the weather and harsher outdoor conditions.
Many walk-in freezers use a drop-in refrigeration system that combines the evaporator coil, compressor, and condenser in a single component. It usually goes on the top or side of the unit, lifted in place using a forklift. You won't need a refrigeration specialist to handle the technicalities and interpret the walk-in freezer wiring diagram accurately. A remote system, on the other hand, will require the services of a professional and will incur additional costs for the assembly and the longer refrigerant lines that will connect the walk-in to the refrigeration system.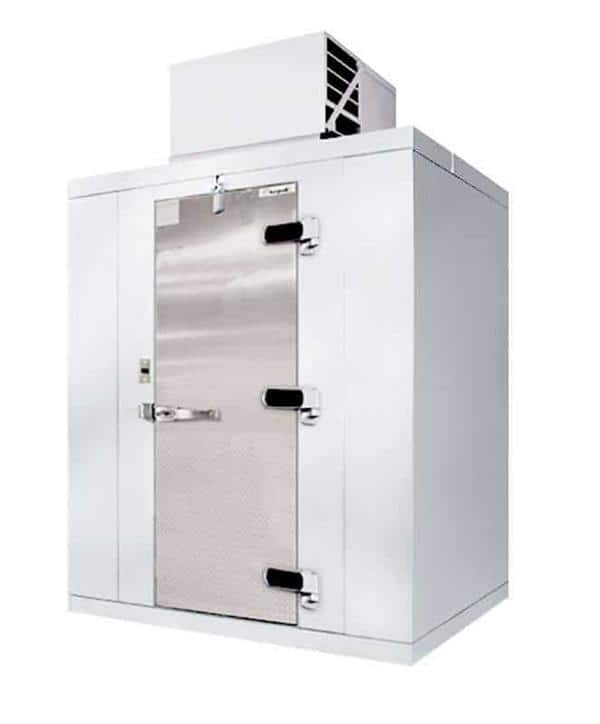 Flooring
You can purchase a walk-in freezer with no flooring and have it installed on a finished concrete if you are on a tight budget. However, this could result in higher utility costs because concrete won't likely offer the optimal insulation that the unit needs to efficiently keep the temperatures low, thus compensating for the gap by using more energy. Not to mention, the cold temperature could also crack a bare floor. Flooring is a worthwhile investment especially if you will load the walk-in freezer with heavy carts, dunnage, and shelves as well as floor ramps that will aid in the access and transport of items.
Permits
Unlike standard refrigerators and freezers, a walk-in freezer will require you to obtain permits such as a mechanical permit and a building permit to make sure that it can function safely and properly in your location.
Door
The door of your walk-in freezer will take the most beating, so it might not be a good idea to cut corners in this department. To save you headaches and unnecessary expenses in the future, get kick plate front, and automatic door closers from the get-go. Also, consider using reinforced door frames and heavy-duty hinges and latches that can take daily heavy use. If hinges get loose, they can create gaps through which hot air can enter, which will spike up energy use. Other upgrades you might want to get for your door are locking bars, observation windows, and extra thermometers, which might rack up the cost, but can pay dividends with the efficiency and precision they provide.
Precision can also be leveraged in saving on operational costs. One way for that is a freezer alarm system that alerts you audibly of any potential issue that needs your immediate attention such as when the door has been left ajar or the temperature hits the danger zone. Advanced units will even notify you with a text message or a call.
Completing your refrigeration setup
Walk-in coolers and freezers provide you with all the space and flexibility you need for extended bulk food preservation. There are also walk-in freezer and cooler combinations for sale, which gives operators a more versatile and consolidated food storage system for the entire supply.
The upright freezer vs walk-in freezer debate always comes up when planning refrigeration setup, particularly on the topic of managing costs. Can you get away with using only a walk-in freezer for your business? Most kitchens will need both to be more streamlined and productive. A walk-in freezer can serve as your central food storage station. To maximize speed and efficiency in your kitchen, it is smart to have refrigerators and freezers in multiple stations that will provide convenient access to food that will be used for the day. This not only saves your staff a trip to the walk-in freezer but also lessens the need from opening the walk-in. There are upright freezers and chest freezers designed for various applications, which give you a lot of options to find the best units that can complement your walk-in setup.
If you're wondering where you can purchase your new walk-in freezer, we have an excellent selection you browse. Our lines are always open if you need any assistance in finding the best unit that meets your needs.