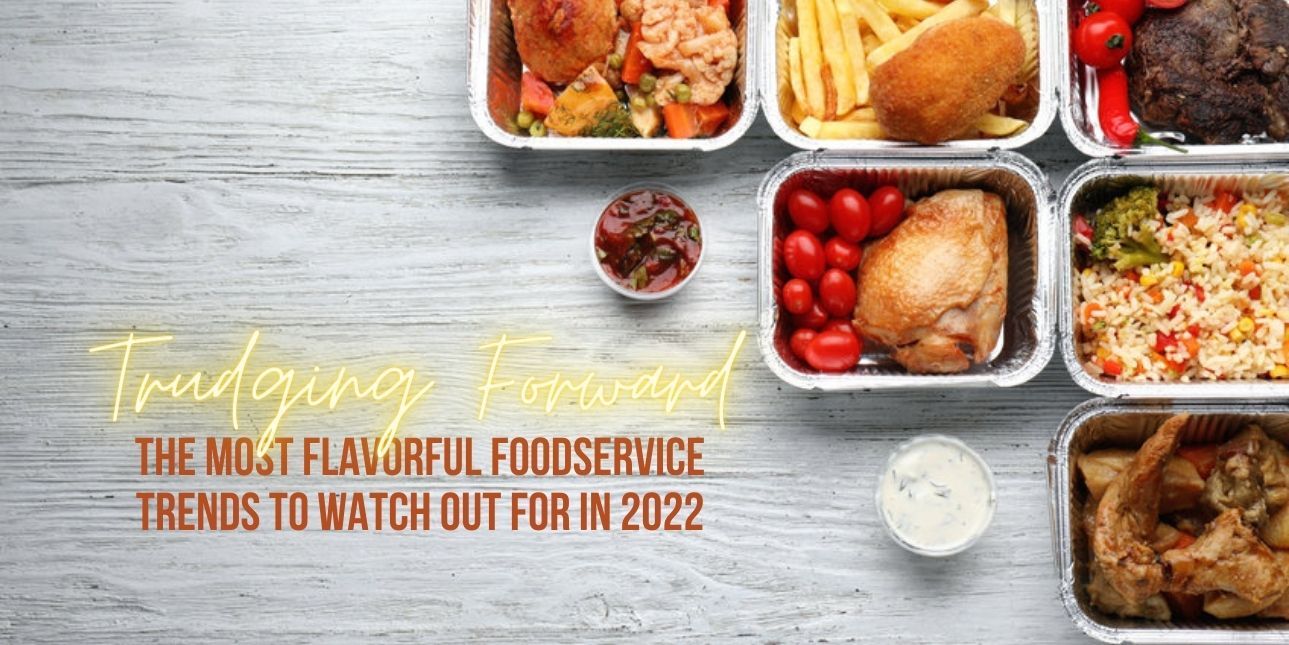 The pandemic has triggered a fast-paced evolution in several sectors, and this is especially true for the foodservice industry. Restaurants and food service businesses have been forced to keep up with a variety of challenges alongside the looming COVID-19 situation. While vaccinations have begun showing their effects, so have newer variants - this has led to several business owners still holding onto their aspersions for the year forward. However, adaptation is the only way businesses cope, and eventually, thrive.
Several restaurateurs have come up with ingenious solutions to the various challenges the opening years of this decade have posed, and newer foodservice trends continue to emerge every day. Whether it's a renewed approach to sourcing raw material, branching out to a purely delivery-based business model, creating an employee-friendly workplace, or actively contributing to sustainable growth & development of the business, emerging trends in the foodservice industry help us improve our standards of service, and help us weather the various challenges we face. Read on as we discuss some of the new trends in restaurants that will gain traction in the forthcoming year, so you can sustain and scale your foodservice operations accordingly.
One Brand, Many Business Models
One of the most important foodservice trends that continue to emerge in the industry as a whole is the implementation of parallel business models and sources of revenue. While delivery-only and grab-and-go options presented a way for culinarians to deal with the vagaries of the pandemic, ghost kitchens or virtual restaurants have become a very reliable source of income for several existing businesses and new entrants. Given the low upfront costs of setting up a virtual restaurant and the option to work with the bare minimum, the returns on investment are very attractive, and have even forced several veteran foodservice businesses to set up dedicated delivery-only kitchens. Going forward, the model will continue to grow further amongst popular foodservice trends in 2022, and provide business owners with added incentive to start their own ghost kitchens to serve customers.
With the rise in standards of comfort and the general desire of people to avoid public spaces, dining in the comfort of one's house has turned out to be both safe and convenient. Businesses will look forward to tapping into these markets to ensure they reach their customers wherever they are by offering either their own delivery services or by outsourcing delivery to a third party. While ghost kitchens are certainly popular, restaurateurs are also exploring retail models to supplement income and add revenue to their businesses. This also offers a simple solution for a business to serve their local community.
The Dawn of Employee-Centric Restaurants
While the past has seen restaurateurs and their staff working through occasions, weekends, and sometimes even beyond their physical capacities, the pandemic has triggered a rethink on mental health, stress, and overwork. More businesses are vying for being open fewer days in a week rather than a seven-day model. Restaurants have begun focusing on providing a work-life balance to their employees. Attitudes toward working through every situation and predicament have transformed, and business owners are looking for ways to provide a sensitive and warm workplace for their staff.
More businesses are promoting practices that make the workplace comforting, and are looking to incentivize employees with better perks, improved healthcare covers, and enhanced paid-leave options. With the worst of the pandemic-induced industry slowdown seemingly behind us, burnout from the survival practices of foodservice businesses has begun to set in. Businesses are now more focused on providing employees a better place to work, retaining their best employees, and taking regular breaks to help with what they do best even better - prepare quality food.
The Local Revival & Supply-Chain Disruptions
Due to supply-chain disruptions brought about by the restrictions imposed during the pandemic, more businesses are looking for supplies and raw materials locally. Whether it's placing large orders at the local grocer or signing contracts with the farmer at the fringes of the town, empty shelves of exotic and essential items alike have forced a rethink. While we expect markets to open up sooner or later and for the supplies to return, businesses are expected to source most of their products locally going forward.
Not only does this trend promote inter-sectoral collaboration and a boost for the local economy, but this foodservice trend also enables sustainable development. While businesses look to stymie their carbon footprint, sourcing locally sourced produce, meat, and poultry can help with a positive impact on the environment and aid in building a more responsible business.
Coping with Staff Shortages & New Approaches to Hiring
Foodservice trends in 2022 will have to continue to grapple with the labor shortages that dominated the sector in 2021. Businesses are going to rethink their hiring practices and policies to make their workplace more welcoming to prospective applicants. We're sure to see a re-drafting of even application forms to enable businesses to follow a more approachable path to hire employees for their establishment. Expedited job applications and short application forms will be the new normal in 2022.
While digital applications are not new, this method of applying to work will be more widely instituted across all foodservice institutions to help attract the new entrants, especially from the younger Gen Z. Improved human resource management, and a more amiable upper establishment are also set to take over the workplace experience to provide more incentive for workers to stay on, alongside improved employee benefits and perks.
Intuitive Approaches to Dessert, Beverages, & Cocktails
With the rise of customization and personalized food choices in the food & beverage industry, this foodservice trend is expected to continue well into the next year and bring forth further expansion in the confection, beverage, and cocktail subsectors. The use of natural ingredients, a reduction of processed ingredients, allergen-free material, and cutting back on artificial sweeteners is bound to influence cake trends in 2022. If you're someone that runs a dedicated confectionery or bakery, be sure to refer to equipment guides to purchase machinery that is suited to your establishment. The increased popularity of third-wave coffee, artisanal coffee, and ready-to-drink mixes are pushing forward the evolution of the approach businesses take to coffee and beverages at large. These beverage & coffee trends are sure to push forth a renewed set of inventions in the industry. Online coffee shops and businesses that offer delivery-only services are also picking up pace. This has brought a large set of both new entrants and veteran coffee shop owners in the race to capitalize on a vast market.
While alcoholic beverages are still popular, the rise in popularity of the sober-curious movement is another new trend in restaurants and bars. A more health-conscious population is looking to actively cut back on its alcohol consumption. Renewed efforts are being made to cater to very specific tastes in the non-alcoholic cocktails section. Ready-to-drink cocktails are another big development in foodservice trends that have followed after the pandemic since in-person bar operations have been curtailed and aren't quite the same experience due to the social distancing practices in place.
People Are Loving The Outdoors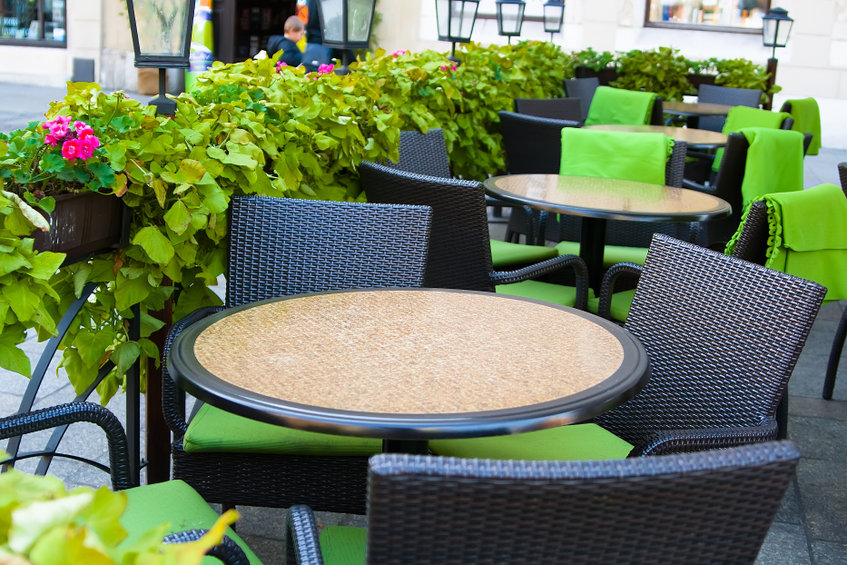 What started as a practice to enable businesses to institute social distancing practices might turn into a popular practice that continues well beyond the pandemic. Outdoor bubbles, patios, tents, and personal cubicles might become mainstays at restaurants. This also brings good news for food-truck owners in case you have wondered what technological trends affect the food-truck industry, along with changes in customer demand. Customers expect an improvement in the ease of ordering at outdoor restaurants and food trucks, so it's important to focus on streamlining the ordering process. You can place tableside ordering systems or a direct order device outside to enable customers to order with minimal interpersonal contact, and help them follow safety guidelines. With the kind of traction outdoor dining has gotten, this foodservice trend in 2022 is only bound to grow further and make dining out a very lively experience for both business owners and consumers.
Grills Are Back in Fashion
Due to the increased preference for outdoor dining, outdoor cooking practices such as grilling and smoking food is gaining popularity again. With the existing benefits of retaining the original flavors of the ingredients and adding the classic, smoky aroma to the food, outdoor cooking is set to make it big in the year 2022. The remarkable texture of food cooked over a live fire and grill entices customers to try more grilled and roasted options, you could profit from this foodservice trend provided you induct a set of the dedicated grill and live-fire options on your menu. These cooking methods also allow you to provide a dine-in entertainment option, something your customers will enjoy and appreciate while waiting for their food.
Plant-based Options are Lucrative & Sustainable
In line with the health-conscious movement seeing a resurgence, ethical options are on the rise, specifically in the food and beverages industry. Most consumers that are taking to plant-based diets are not necessarily vegan but are instead flexitarians that are looking to cut down on their meat consumption. Restaurants have increased the number of plant-based offerings on their menus to cut back on their carbon footprint, and also to offer these aware customers their fill of ethical, healthy, & sustainable food options. Presenting your customers with more plant-based delights also allows you to source more vegetables and produce locally, which makes this development an interlinked foodservice trend that helps you tackle supply-chain challenges.
Comfort Food & Customizations Galore
The past two years have seen an increase in variety and freedom for customers to modify dishes they order to their liking. While traditional eateries would look upon certain customizations to existing recipes as odd or even baffling, that certainly isn't the case anymore, with restaurants offering more freedom to their customers to order dishes and have them served the way they prefer. Everyone has a unique taste and restaurateurs have come to appreciate this fact. The trend is observed in both online food services and offline dine-in restaurants. More business owners have also begun offering quirky food options and have developed their very own fusion cuisines that enable customers to taste multiple culinary traditions with a single dish. Since the pandemic has triggered many challenges in several walks of life, more consumers are looking to consume carb-heavy offerings that soothe their cravings. Delicious white pasta, spiced rice & curry, and cheesy delights are back on menus to help people combat their blues.
More Targeted Marketing & The Rise of Brands
Even though targeted marketing through electronic media is no new trend in the industry, there has been a steep rise in businesses utilizing social media platforms to reach their customers. While Facebook and Instagram have been mainstays of targeted marketing, restaurateurs are also taking to platforms such as TikTok to create curated content to attract customers to their establishments. The pandemic and the personal time that it brought has also triggered an increase in more businesses defining their niches and creating a brand for themselves. This has led to better engagement and helps businesses stand out among their competitors and cater to the groups they craft their products for.
The Outlook
While businesses continue to innovate and tackle the various tribulations put forth by the still-ongoing pandemic, the period has ushered in several rethinks and reevaluations of the industry. Foodservice trends in 2022 will continue to evolve, however, keeping an eye out for these emerging trends mentioned here will enable you to market your establishment better and allow you to make the best of this evolving situation, and come out of it as a successful and respectable business.