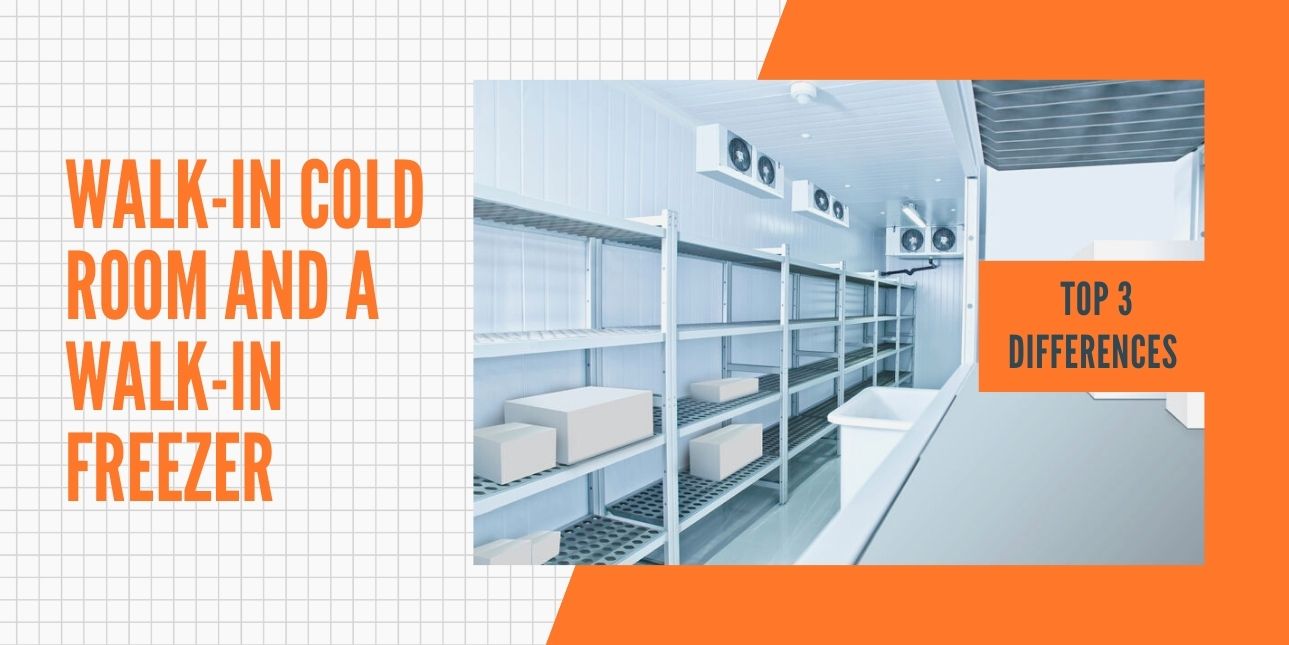 Did you know that there are distinct differences between a walk-in freezer and a walk-in cold room? Having the right equipment in your establishment will determine the success of your business.
When purchasing a commercial walk-in freezer or a cold room, you may feel overwhelmed. Buying the wrong equipment is a costly mistake. You must know what to invest in based on the needs of your establishment. Otherwise, this mistake might turn your restaurant into just another statistic of recent global events.

Commercial Walk-In Freezer Versus a Cold Storage Room

It is no secret that this last year has been challenging for many restaurant owners. The restaurants that remained open for carry-out experienced more than 36 percent declines in total revenue.
If your establishment stayed open for business, you need to ensure that you spend only as much as you have to on equipment. Fortunately, resources are available to you. Take a moment to learn whether a commercial freezer or a cold storage room is best for your establishment.

Top 3 Differences to Know About Commercial Walk-Ins

According to Finances Online, 50% of restaurant guests say food quality is the most significant factor when deciding where to eat. Therefore, you want to ensure that your equipment keeps your food at its highest quality.
For this, you will need to determine the best ways to store the food you serve. This will depend on the type of establishment you manage. For example, if you run a frozen yogurt shop, the needs of your walk-in will differ from that of a fine-dining restaurant.

There are a lot of similarities between a walk-in freezer and a walk-in cold storage room. Most of these are superficial. What each one does differs considerably. Here are the most significant differences, to help you determine what equipment to buy.

1. Temperature Variants

The temperature of a walk-in freezer is much lower than the temperatures required for a walk-in cooler. Standard walk-in cold rooms maintain an average temperature between 32°f and 41°f, which is just above the freezing point of most liquids. A walk-in freezer, by comparison, maintains temperatures as low as -104°f, which freezes everything inside the unit.
If your restaurant works with temperature-sensitive foods, you would not want to purchase a walk-in freezer, as it would damage certain food products. It may also cause freezer burn and crystallization, ruining food quality. Opt for a cold room instead.

2. Applicable Uses

How you plan to use the walk-in unit will also determine which type you will need. The applications of a walk-in cold room are considerably different from those of a freezer. Because the average temperature set within a cold storage room is above freezing, it operates the same as a refrigerator. It is often referred to as a walk-in refrigerator for that reason.
You will need a commercial cold storage room if your food must be ready without defrosting.
A commercial walk-in freezer is used for food that requires below-freezing storage, such as ice cream or other frozen foods. Commercial freezers can increase the lifespan of food that is stored at freezing temperatures. This helps you eliminate waste and decrease costs.

3. Storage Requirements

The storage space required for cold rooms and walk-in freezers don't differ much, as both come in an array of size options. However, you can maximize the storage space within either unit by utilizing space-efficient shelving units, which neatly arrange and store food items.
Do consider that some walk-in freezers have components that might take up valuable shelf space. When determining the size of the unit that you need, make sure you are familiar with the precise setup for that commercial freezer unit or walk-in cold room and how much usable space each contains.


Benefits of Buying Commercial Refrigeration and Freezer Units

Whether you are a start-up, expanding to an additional location, or need to replace your current unit, knowing which one to buy is only part of the equation. Consider some of the benefits of purchasing a commercial walk-in.

Globally, the foodservice industry market for 2020 was valued at over $34 billion. This was a significant drop from the previous year. However, the market is expected to continually expand at a rate of 5.5 percent annually throughout 2026.

You want your restaurant to be ready for this market expansion. Having the proper commercial walk-in units will ensure you can grow with the rest of the industry.

Here are a few benefits to consider when shopping for commercial walk-in units:

● Space-saving options: An establishment with little space to work with can struggle to find commercial equipment that fits what they have available. There are significant space-saving options for you to choose from when purchasing a commercial walk-in. Floor-to-ceiling models can really help utilize every square inch of space.
● Overall financial savings: Commercial walk-in freezers and cold storage rooms are not cheap, but they can save you a significant amount of money. It is easier to lose track of essential food items with commercial cold storage. You may end up buying more produce than you need because the food was not easily accessible or visible, like what happens with a standing refrigerator or freezer. However, the additional space of a walk-in allows for easy organization and less shrinkage due to food spoiling.
● Customizable based on needs: Size options for your walk-in freezer or cold storage room are fully customizable. Not only can you select a space-saving model that requires less space inside your commercial kitchen, but you can also choose design options depending on the area you need within the walk-in. A commercial kitchen equipment specialist can go over these plans with you at the time of purchase.

Another benefit of purchasing a walk-in freezer or refrigerated room is that enclosed refrigeration units reduce energy use by more than 68%. For that reason, they are significantly more cost-effective, as well as environmentally friendly.
Something else to consider when looking at the benefits of a cold storage room or freezer is the cost of owning versus leasing. When discussing your options with a commercial equipment professional, consider if your establishment would be better off buying or renting the walk-in.


How to Find the Best Commercial Refrigerated Room or Walk-In Freezer

The fact is, eight of ten restaurant owners started in the industry in an entry-level position. Chances are if that's you, there is a lot you already know about commercial restaurant equipment. However, you may not know the details essential for making such a substantial investment.

When shopping for a walk-in freezer or cold storage room, you must speak to an expert who knows what equipment will ensure food quality for the type of establishment you run. If your restaurant has additional locations, you may also find that each needs a different walk-in.

A consultant will be able to help you find all of the commercial kitchen equipment you need. An expert can help you further understand the differences between a commercial cold storage room and a commercial walk-in freezer.