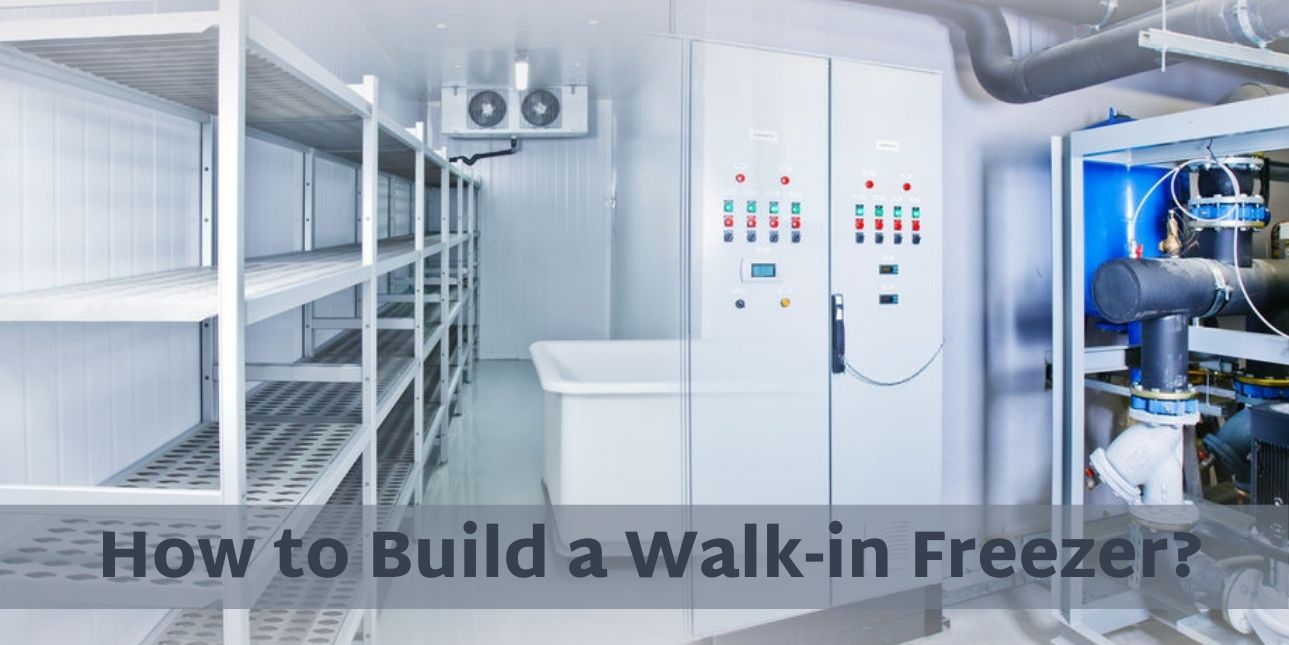 Commercial kitchens or food establishments require walk-in freezers to keep food products in ideal temperatures. Walk-in freezers are an essential part of restaurants, institutional kitchens, food joints, and other commercial food establishments. You can choose to buy a commercial walk-in freezer for your restaurant, or you can build one from scratch. There are significant advantages and disadvantages of a commercial walk-in freezer and a DIY walk-in freezer. You should pay heed to the energy consumption, installation cost, and annual maintenance while building your freezer. In this blog post, we discuss how to build a walk-in freezer, things to consider when building a walk-in freezer, and a comparison between commercial walk-in freezers and DIY walk-in freezers.
Steps to Build a DIY Walk-in Freezer
Before you start building your walk-in freezer, you need to evaluate the exact needs of your commercial kitchen. While a DIY walk-in freezer can come in different sizes, a standard walk-in freezer is usually 8 x 8 x 8 feet in dimensions and can consume up to 8000 kWh per year. That may result in $1000 per year in energy costs. Here is a list of 5 things to pay attention to when buying a walk-in freezer or building a walk-in freezer:
Insulation
After you have selected the size of your freezer, you need to build the insulated box. You can cut down on the cost of building an insulated box if you choose to do it yourself. While building the insulation box, select construction materials and assembly techniques that will reduce energy consumption. The type of insulation material selected should withstand low temperatures and have good moisture resistance. Polyurethane and polystyrene are best for insulation purposes. The type of material used for the outer layer of the freezer will depend on your budget. Stainless steel is the most sought-after and expensive material that can be used for the outer layer. It is also aesthetically pleasing. For the outer layer, you can also consider using Aluminum, G90 galvanized steel, and galvalume.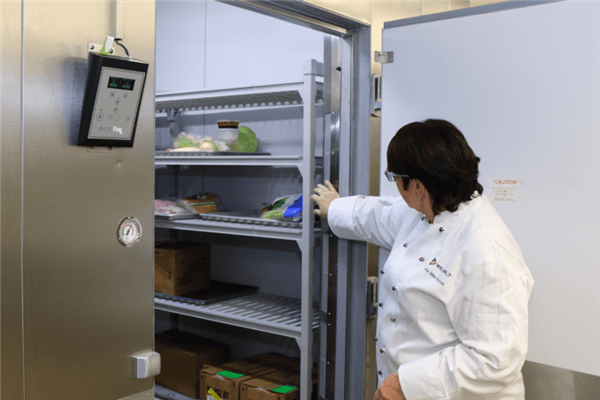 Laying the Freezer Floor & Building the Walls
Choosing an ideal location for the freezer is essential. A walk-in freezer can work efficiently when it is ideally positioned. The construction or placement of a walk-in freezer is determined by the space available and the type of surface beneath the freezer. The floor of a walk-in freezer needs to be perfectly insulated. It is essential to place pipes that will allow hot air to flow below the freezer, as cold air can warp materials below a walk-in freezer. A freezer that is built over soil can heave the soil as the cold or moisture sinks to the ground, and this can severely damage the freezer. Ideally, you will need some gravel for drainage purposes. It is crucial to evaluate the ground below a freezer for its structural integrity and to provide passage for drainage and air circulation. For the frame, pressure-treated timber will be a perfect choice. You need to add a double layer of insulation and use tape and caulk to ensure everything is sealed properly.
The walls of the freezer should have insulation between the two layers. A layer or multiple layers of insulation will be sandwiched between the outer and inner layers of the walk-in freezer. Inject foam to clamp the layers together. Some of the ready-to-use kits have built-in insulation. The freezer roof will have an extra layer of insulation because the heat generated inside a freezer rises above. The inlets for the compressor and the evaporator units should be perfectly sealed so that there is no leakage.
Adding a Compressor to a Walk-In Freezer
After the walk-in freezer frame is set, the next step is to add the cooling system. Most DIY cooling systems come with an evaporator coil, condenser, and compressor. These systems are called drop-in, penthouse, self-contained, or capsule packs. The installation of the compressor or cooling system involves charging the system with refrigerant after it has been connected. According to federal law, the cooling system should be installed by an EPA-licensed refrigeration technician. The installation also requires proper plumbing to drain the evaporator coil and control system wiring. After the system is installed, the walk-in freezer should be kept at 0 degrees Fahrenheit or less.
Energy Consumption and Quality
Buying a compressor that is energy efficient is essential because the compressor will consume the most energy, and a compressor that consumes more energy can leave your pockets high and dry. Additionally, a walk-in freezer should be constructed properly to keep long-term energy costs down. The proper installation of a commercial freezer should be done precisely; from the freezer door to the walls, everything should be perfectly sealed. Keeping the walk-in freezer away from direct sunlight or a hot stove can help you save on energy costs. You should also consider the fact that opening or closing the freezer multiple times can lead to significant energy loss. Though it is challenging to keep the freezer door shut in a commercial kitchen for a continuous period, opening the freezer door makes it harder for the walk-in freezer to maintain its ideal temperature. You can also use vinyl strips on the edges of the door to keep cold air inside the freezer unit. The temperature of food items can also affect the energy consumption of a walk-in freezer. Any food product that is hot or warm will need more energy to cool down. Once you place a food product in the freezer, the internal temperature of the walk-in freezer will spike. The compressor will go in overtime, compensating for the sudden heat surge inside the freezer. To regulate the issue, you can install a freezer thermometer to monitor the overall energy consumption due to temperature fluctuations.
Converting a Walk-in Cooler to Walk-In Freezer
Converting an existing Walk-In Cooler into a Walk-In Freezer is possible, but it is a tedious process, to say the least. You can use the insulation box, but the HVAC system needs to be replaced, and a high-quality system is required to handle moisture.
Benefits of a Commercial Walk-in Freezer
A commercial walk-in freezer can store products in huge quantities. The ideal temperature conditions of a commercial walk-in freezer ensure food safety. A commercial walk-in freezer is an integral part of a commercial kitchen. The size of a commercial walk-in-freezer depends on the requirements of a commercial kitchen. The location of the restaurant and commercial kitchen can determine the final energy consumption and energy costs. If you choose to buy one instead of building it yourself, you should consider a commercial walk-in freezer from a well-established brand. A known brand will provide good after-sales service and respond to all your queries.
Both DIY and commercial walk-in freezers have their set of advantages and disadvantages.
A commercial walk-in freezer is built for the job, unlike a DIY walk-in freezer. A DIY freezer takes time to set up and can be riddled with problems, whereas commercial freezers are durable and come with a warranty. Companies that sell commercial freezers are well established and have a proven track record of selling impeccable products that can last a lifetime. Before comparing DIY and commercial walk-in freezers, you should look at your budget, needs, and the required reliability.