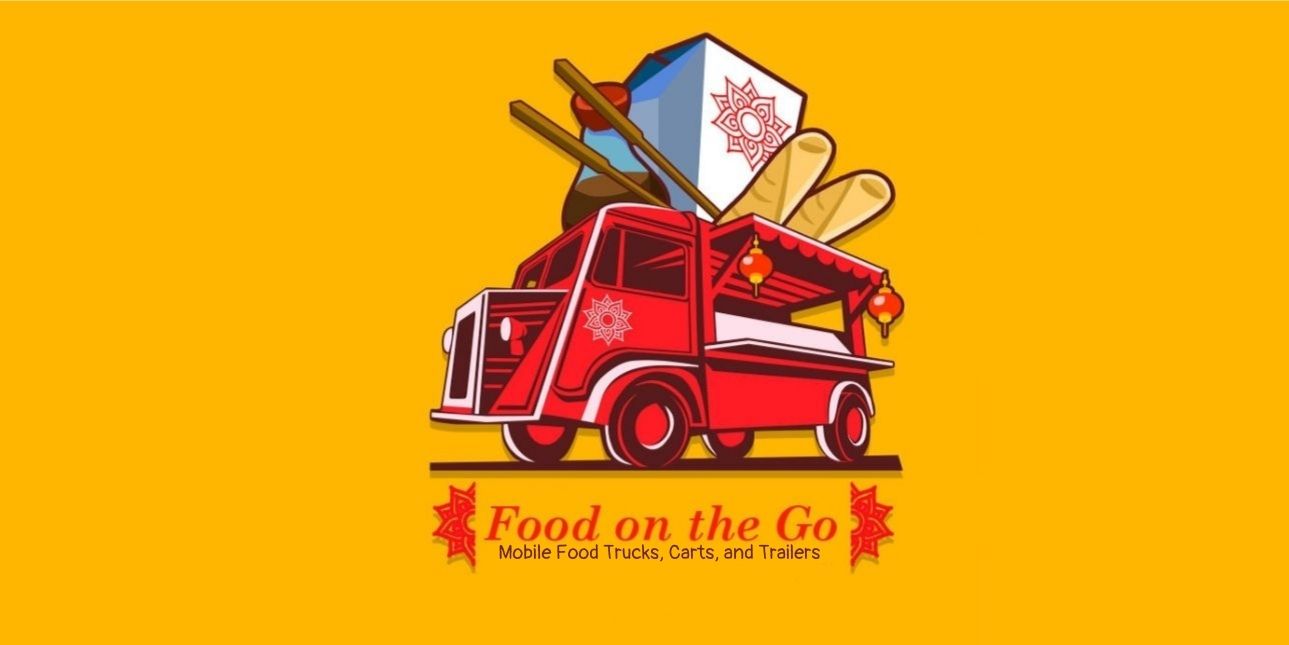 Food carts have always enjoyed a ubiquitous presence in cities and towns across the U.S., but rising real estate prices and high rents have caused mobile food trucks and trailers to surge in popularity. You can find food trucks that specialize in halal food, tex-mex cuisine, breakfast foods, and many quick-serve cuisines around office buildings, construction sites, and tourist spots with a high footfall. It is much cheaper to own or rent a food truck than running a restaurant, but some food trucks also serve as extensions of already established restaurants to create a buzz around town and bring in new customers.
Starting a Food Truck Business

The first thing you need to own to start your own food truck business is an operational vehicle that is already outfitted for business or can be changed into a mobile venue for cooking and serving quick bites. You will also need clearance from the local health department as well as inspection certificates to operate in accordance with the law. Once you have a permit, running costs are lower than brick-and-mortar establishments and margins are usually profitable enough to recover your initial investment cost quickly. As far as upfront costs go, you will also need to invest in kitchen equipment, as well as signage to attract customers and display your menu. Some food trucks tend to change venues throughout the day to various locations, so fuel costs should also be taken into account. Mobile food operations can be broadly classified into carts, trucks, and trailers, all of which require permits to run.
Food Truck vs Food Trailer

One of the primary differences between food trucks and food trailers is the dimensions of the unit. Food trucks tend to be smaller in size than trailers. The greatest strength food trucks have against trailers is their ability to be driven, fitted, and parked in various types of venues, while trailers more or less occupy a spot for parking and stay there.
Food trailers are usually cheaper to purchase than food trucks as they need to be driven by a pilot vehicle, while food trucks are self-contained. If you intend to move your mobile food unit to different locations around town, it may make more sense to invest in a truck as they are easier to maneuver around streets than a trailer.
Size Difference Between Food Trucks and Trailers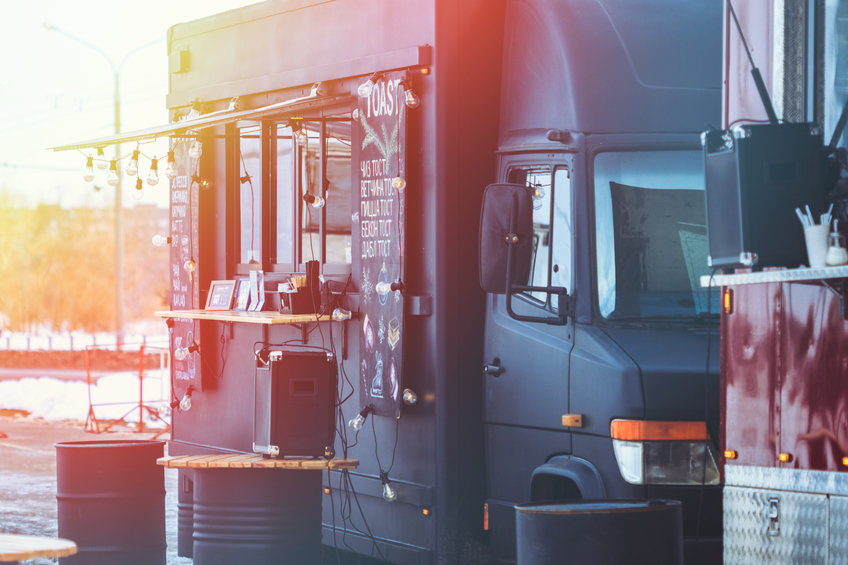 As previously discussed, the ability to self-drive and size dictates the major difference between food trucks and mobile food trailers. Food trucks have to have the structural integrity of a moving vehicle and as such, their dimensions are usually around 7 feet wide and 10 to 26 feet long. Food trailers, on the other hand, have to be chauffeured by another vehicle, so they can be more generous in terms of dimensions. These can have a width of 8.5 feet and lengths varying from 8 feet to 53 feet. This difference in size and structural integrity equates to a difference in initial investment as well, with food trucks being priced higher than trailers. This also means that food trucks hold their resale value better over a period of time than food trailers.
Food Truck Equipment Checklist

Food trucks and mobile food trailers have similar requirements in terms of kitchen equipment, although the more generous dimensions of a food trailer allow for a less cramped kitchen and better airflow between units. The types of cooking appliances you will need for your mobile business will vary according to the type of food you are going to serve, although refrigerators and sinks should be an essential part of any mobile food service operation. Some of the more important cooking equipment these units should have installed are:
Griddles: Griddles are flat-top multipurpose appliances that can be used to cook eggs, pancakes, burgers, and various meats and vegetables for a varied menu.
Microwave Ovens: Microwaves are essential for pre-warming ingredients prior to cooking or heating upsides before serving.
Toasters: If your menu includes sandwiches, a toaster or a toaster oven is a must-have. Toasted bread retains its firmness and does not get soggy from fillings.
Fryers: Although a bit of a risky proposition to install inside an enclosed kitchen, fryers are excellent at quickly making batches of easy-to-serve foods like fried chicken, mozzarella sticks, and french fries. Some fire codes do not allow food trucks to be installed within mobile units due to the risk of grease fires, so it's best if you check with your local laws beforehand.
Exhaust Hoods: Since you are going to be working with cramped quarters inside a mobile food unit, installing an exhaust hood is a must. Even with the generous proportions of a food trailer, fumes from smoking oils and steam may collect inside your workspace. As such, it is essential to have an outlet for any vapors that may saturate the air while you are cooking.
Work Tables: A work table is essential for assembling your food into a neat package before it is ready to be served to the customer.
Cutting Boards: Required to cut sandwiches, burritos, and other food items, cutting boards, as well as proper knives, are as important as the cooking equipment you will be using.
Refrigerators: The space inside your kitchen will be hot and enclosed, so having an undercounter or worktop refrigerator is a must. These appliances will keep your ingredients fresh and worktop models can provide you with an extra surface to help with prep work.
Freezers: Undercounter freezers will greatly benefit your operation by providing you with the ability to store frozen ingredients in a limited space.
Sinks: You will also need a warewash station to clean your pots and pans inside your food truck, so installing a large sink or a sink with multiple compartments will allow you to wash, clean, and sanitize your cooking equipment.
Food Truck vs Food Cart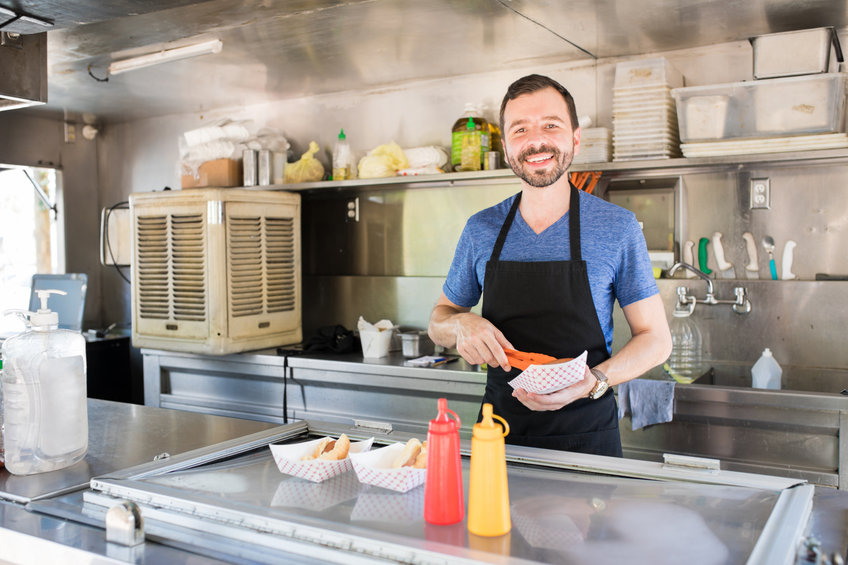 Food carts are small establishments that are used for quickly serving prepared food items or making fresh foods that do not require a lot of prep work. These differ from food trucks in that they are smaller and require a mode of transport to be taken to another location or back to their storage when you close for the day. Carts are excellent for serving items like ice creams, popcorn, cotton candy, coffees, and frozen treats like milkshakes. The advantage of food carts is that they can be moved around merely by pushing them and you can haul these to locations within your stand area to where business is brisker. One of the downsides to food carts is their size - due to limited space, it is not feasible to store large quantities of your prepared food items or ingredients and you may have to regularly refill supplies.
Food Cart Equipment Checklist

Unlike food trucks, food carts do not need to be very well equipped to run efficiently. Some appliances that may be useful for running a successful food cart business include:
Countertop Food Warmers: Food warmers are handy appliances for when your food has been pre-cooked and you need a warming station to keep it hot and fresh for sale.
Blenders: Blenders help you prepare hot selling items like frozen cappuccinos, milkshakes, and smoothies.
Coffee Brewers: Coffee is a big draw at food carts. Having a supply of fresh, hot coffee is sure to benefit your business and sell additional items like doughnuts and croissants, etc.
Panini Presses: If you are going to sell fresh, quick-fix sandwiches like paninis, it might be a good idea to invest in a panini or sandwich press. Fresh sandwiches are a hot seller all year round!
Depending on your budget, city codes, and parking space, you can choose from a food cart, a food truck, or a food trailer to represent your outdoor business. Food carts excel in cramped spaces like markets, while food trucks and trailers can be moved from one location to another during different times of the day to attract customers. You can even use these mobile businesses as an extension of your existing restaurant to give customers a taste of your popular menu items and increase the customer base for your establishment. If you have the right equipment and a good location for your new mobile food service operation, it should be a hit in no time!