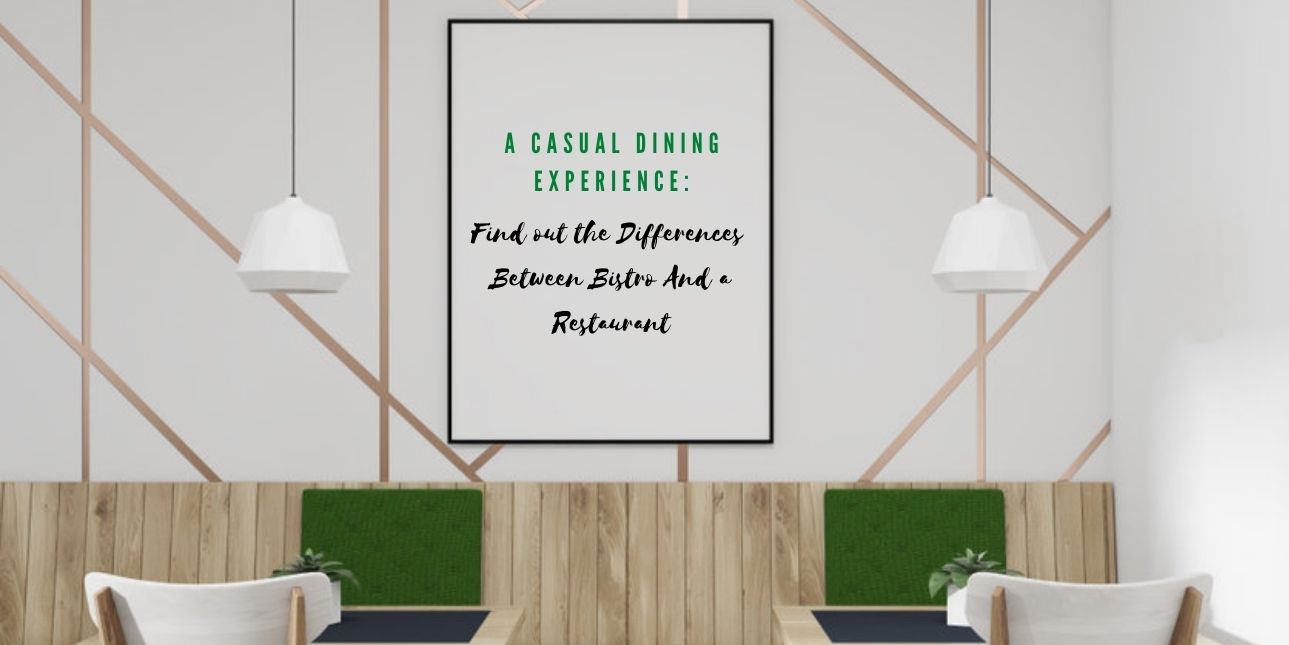 Bistros are small, casual food joints that serve simple food with wine or coffee. Even though bistros originated in France, they have become globally synonymous with a casual dining experience. Bistros are different from traditional restaurants in that they provide a pocket-friendly gourmet wine and dine experience. Bistros are designed for everyone, from casual diners to office-goers; anyone can enjoy sumptuous meals with friends or family. Most bistros provide an extensive menu that includes appetizers, entrees, and desserts. Bistro menus can be seasonal and can change throughout the year.
In this article, we provide a brief overview of a bistro, what a bistro restaurant is, the difference between a bistro vs. a restaurant, the difference between a cafe vs. a bistro, common bistro food menus, and more facts about a bistro-style restaurant.
What is a Bistro?
Even though the word 'Bistro' has become synonymous with restaurants and cafes in recent years, there is no straight answer to the question, 'What is a bistro?' There has been a lot of discussion or debate about the word bistro and its history.
From various sources, 'Bistro' or 'Bwystra' in Russian means fast. When Russia invaded France in the early 19th century, the word became popular in French cafes and restaurants. Russian soldiers used the term to demand speedier service from the waiters or owners. Since then, the word has gained global prominence. Nowadays, small cafes or restaurants are referred to as bistros where gourmet food is served without the strings of a high-end gourmet restaurant. These bistros offer fresh and healthy gourmet food. Most bistros are small establishments where fast and efficient service is offered to patrons.
Bistros offer delicious dishes and a wholesome experience in a somewhat casual atmosphere. These establishments are economical and offer healthy cuisines at affordable prices.
What is a Bistro Restaurant?
Bistro restaurants have become popular nowadays as they provide a perfect environment for food lovers to enjoy great food at reasonable prices. Most bistro restaurants offer a casual and chic atmosphere for their patrons. These establishments serve breakfast, lunch, and dinner with a perfect mix of local and international cuisines. You can expect healthy dishes along with exemplary service from bistro restaurants. Bistro restaurants serve dishes made from fresh ingredients and produce. You can also expect traditional dishes like baguettes or croissants, served with a glass of wine or coffee. Contemporary bistro restaurants serve delicious kinds of pasta, salads, and other gourmet dishes. The menus of bistro restaurants are extensive, including a wide range of appetizers, entrees, and delicious desserts. Bistro restaurants usually serve locally produced seasonal dishes.
Difference Between Bistro vs. Restaurant
Food establishments are designed to serve different types of dishes. In bistros, a patron usually goes up to the counter to order food. In some establishments, waiters or servers take your food order. Bistros are an inexpensive affair, as they are designed to serve fresh and healthy food economically. They usually serve traditionally popular dishes. You cannot try different types of international dishes in bistros. Most bistros serve French cuisine to their patrons. In a regular bistro, you can order croissants and cheese with a cup of hot coffee or tea for breakfast. Bistros are economical and budget-friendly; it is suited for travelers, office-goers, families, and students. Also, bistros provide a casual dining experience which makes it distinct from other types of food establishments. The decor in a bistro is usually more traditional and simple. You may not get fancy amenities while you dine in a bistro.
Since restaurants are places where waiters or food servers consistently serve patrons, they take your order from the table and serve it in a chic or fashionable manner. You can also experiment with a restaurant menu by trying signature dishes and international cuisines depending upon your taste palette. You can have French, Italian, and Asian dishes as per your taste. Restaurants are more expensive than bistros. Restaurants can serve multi-cuisine dishes or specialty dishes. You can expect a casual or a luxury dining experience depending upon the type of restaurant. Higher-end restaurants are expected to deliver various amenities like valet parking, expensive wine, contemporary design, and other premium services.
Bistro-Style Restaurant
Bistro-style restaurants have become popular in recent times. These restaurants are usually inexpensive and serve traditional food in a casual and friendly atmosphere. Bistro-style restaurants serve gourmet food in a fast and efficient manner. Also, these restaurants are more budget-friendly than expensive traditional restaurants. Bistro-style restaurants provide some premium features such as valet parking, expensive wines, and professional servers or waiters.
If you wish to start a bistro-style restaurant, you will need to purchase a host of commercial kitchen equipment, including commercial ranges, walk-in freezers, blenders, and other essential commercial kitchen equipment. This equipment will help you serve your patrons in a highly efficient manner.
Difference Between Cafe vs Bistro
Cafes and bistros have a somewhat similar approach to dining. The differences between a cafe and a bistro are subtle. Most cafes and bistros are synonymous with casual dining. Even though there are some differences, customers can get confused because of the similarities between the two.
One of the key differences between a cafe and a bistro is that you can get gourmet food and drinks in bistros, while in cafes, you will most likely get only popular dishes and coffee. Bistros are designed for speed; fresh and healthy foods are served at a blazing speed in bistros, while in cafes, the delivery speed can be relatively slower.
Also, alcohol and coffee are both served in bistros, while most cafes only serve coffee or tea with meals.
Bistro Food Menu
There are some traditional and signature bistro dishes that you can find in any bistro or bistro restaurant. Bistro dishes are prepared from fresh vegetables or produce. These dishes are healthy and delicious at the same time. Some popular bistro dishes may include strip steak fries with butter, mussels with caramelized fennel, and other dishes. The menu of bistro restaurants is extensive, including a wide range of appetizers, entrees, and delicious desserts. Bistro restaurants usually serve locally produced seasonal dishes. You can get different types of dishes during spring, summer, autumn, and winter.
Here is a list of some bistro dishes that can be a part of a bistro food menu:
A typical lunch menu can include the following:
Appetizers
Soup of the Day
Salad
Frittata
Spring Rolls
Smoked Salmon
Crab Dishes
Coconut Shrimp
French Bread and Pate
Cheese Omelette
Main Course
Hamburger
Chicken Breast with Mashed Potatoes
Ravioli
Grilled Steak
Sandwiches
Dessert
Chocolate Truffle Cake
Apple Pie
A typical dinner menu can include:
Appetizers
Selected Soups
Gourmet Salads
Bruschetta
Warm Bread with Cheese
Entrees
Crab in Chilli or Garlic Sauce
Grilled Lamb
Honey Glazed Salmon
Steak Tartare
Meatloaf
Desserts
Sundaes
Cheese Cake
Creme Brulee
For beverages, you can choose from different types of house wine and regular wines. You can also order coffee, tea, hot chocolate, or other cold beverages with your meal.
If you wish to serve a bistro food menu to your patrons, you will need some essential ingredients and commercial kitchen equipment. Make sure to purchase food warmers, commercial ranges, commercial walk-in-freezers, and blenders for your bistro.