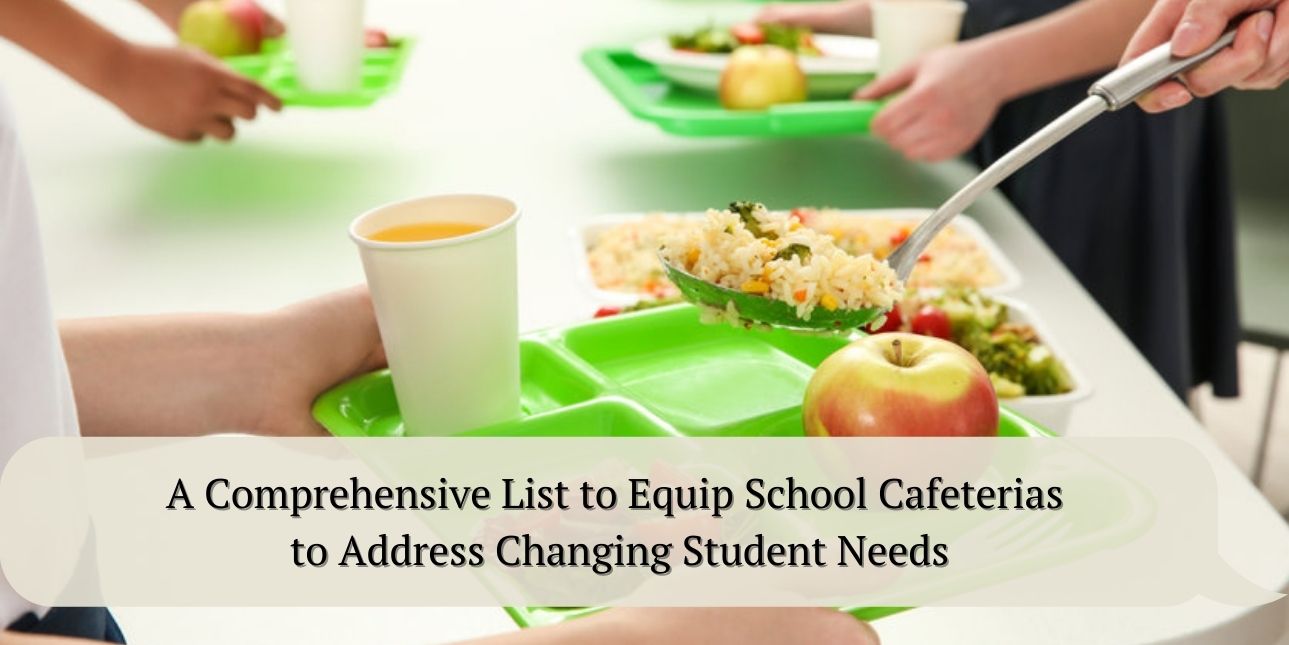 School cafeterias are commercial food service operations that serve a large number of students every day. Due to the nature of the business and the age group of the population served, school cafeterias have a very different set of requirements when compared to restaurants and other commercial kitchens. School cafeteria equipment and cafeteria supplies are created and designed specifically to cater to the needs of children and the ways the school functions. Often having to prepare large quantities of food in a short period, school cafeteria equipment needs to be both quick and durable. A limited timeframe for serving also requires a serving line that has adequate cafeteria supplies to serve each student.
School cafeteria kitchens need to take care of the kind of cafeteria supplies they use due to students being more vulnerable to infections and allergies when compared to adults. This requires strict quality control and considerations before choosing equipment and supplies for a school lunchroom. We discuss a list of essential equipment and must-have cafeteria supplies so you can maintain a seamless operation at the school cafeteria kitchen.
School Cafeteria Equipment List
School cafeterias have durable, long-lasting, and high-volume equipment that can endure the stresses of producing large meals in short periods. Whether you're operating a cafeteria in an elementary, middle, or high school or even a college lunchroom, you require modern and efficient equipment to get students' lunches on their plates. Equipment covers everything ranging from food prep, cooking, dishwashing, refrigeration, and merchandising equipment to give students comprehensive meals. Since lunches at school are important sources of nutrition for children, no compromise can be tolerated in quality, and quality begins with good school cafeteria equipment. Here's what you will need to outfit your school lunchroom
Food Prep Equipment
Prepping food takes up much of the time in a large food operation, including a school cafeteria. Food prepping equipment like food processors, slicers, dicers, meat grinders, and proofers come in handy when handling large batches of produce and meat. Mixing bowls, chopping boards, knife sets, spatulas, and ladles are essential in helping with large-scale operations at the school lunchroom's food prep area.
Cooking Equipment
Cooking good food requires school cafeteria equipment that you can rely on for cooking nutritious meals on time. School lunchrooms need to prepare large amounts of food and need to maintain pristine quality control to prevent cross-contamination and allergies. This requires adequate separation of equipment from pre-made food options and merchandising equipment. Combi ovens, steamers, steam kettles, toaster ovens, cook & hold ovens, and fryers can help you line up a formidable school cafeteria task force.
Refrigeration Equipment
A kitchen is bound to falter without commercial refrigeration equipment and the same applies to school cafeterias. Having to hold large quantities of produce, dairy, raw material, condiments, ice cream, and desserts, school cafeteria equipment has to be supplemented with a top-notch refrigeration system. Equipment lists include milk coolers, walk-in & reach-in refrigerators, icemakers & ice bins, and walk-in freezers.
Food Holding Equipment
While food prep and cooking cover a major portion of the tasks at a school lunchroom, most of it is performed beforehand and requires hot and cold food holding units until students can be served during the lunch period. Steam tables, food wells, heated food holding cabinets, and dual temp cabinets are essential to meet your operational needs at the school cafeteria.
Merchandising Equipment
Merchandising equipment allows you to safely hold and arrange an array of offerings that are pre-made or packaged. These units can also help you have a storage option for canned and packaged foods like vegetables and fruit you tend to use while cooking for students. Merchandiser freezers, refrigerators, and display cases are great ways to showcase packaged food and baked cafeteria items to your students.
Ware Washing Equipment
Since school cafeterias serve such a large number of students every day, having a swift and seamless ware washing space is essential. School cafeterias require multi-compartment sinks, commercial conveyor dishwashers, and soaking sinks to be prepared for a large volume of dirty utensils.
Equipping your school cafeteria kitchen with these machines is going to help you stave off the deluge of hungry students during lunch hour, by providing them quality meals without delays.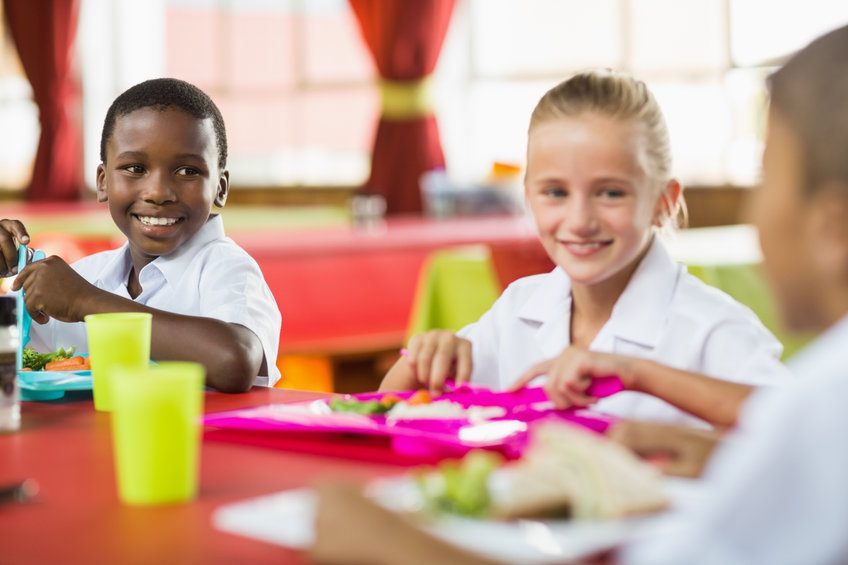 School Cafeteria Supplies List
While the equipment will keep your cafeteria running, school lunchrooms can end up creating too many dishes or wares to wash. It isn't realistic, given the tight schedules that the staff has to adhere to. For a hassle-free operation, you require a variety of consumables and disposable cafeteria supplies. School cafeteria supplies also include other consumables like condiments and pre-packaged foods that can help in providing extra options to students during lunch. Here's what you will need
Trays, Cutlery & Wares
Considering the large number of dishes, flatware and glasses a school cafeteria can run through daily, melamine-based equipment is well-suited to such operations. These trays and plates are breakage and scratch-resistant, allowing them to bear the rigors of daily use in an institutional setup. All of these materials can be washed in the dishwasher, making your staff's job far simpler. Trays, plates, glasses, break-resistant flatware & cutlery form the basis of tabletop school cafeteria supplies.
Containers, Holders & Dispensers
Flexible storage and presenting options enable you to set up a convenient serving station for students. Since children are time-strapped in the lunch period, having a quick service line will be a priority. Food pans can hold salads, vegetables, and fruit. You can even use food pans of varying sizes to hold side dishes. Condiment holders can stack up containers that have ketchup, mustard, and dressing sauce for comfort. Crocks and polymer containers can hold bulk material that you can use to refill food pans regularly.
Disposable Items & Consumables
Quick and problem-free cleaning is on the priority list of all institutional kitchens and the only way to achieve this at the school cafeteria kitchen is by using disposable material. Students are free to discard these items after use and this relieves a lot of pressure from the ware washing area. Paper towels, foam plates, foam trays, sandwich papers, and paper straws form the bulk of disposable items you can procure for your school lunchroom. While disposables cover a part of the high-volume challenge, pre-packaged foods & condiments address the other. Be sure to stock up on items like canned fruit & vegetables, salad dressing, ketchup, spices, and cooking oil to always be ready for a busy afternoon serving hungry students.
By ensuring both your supplies and equipment are in line with your school cafeteria's requirements, you can assure healthy, nutritious, and quality meals for every student. Since school cafeterias have special requirements, you will also need to keep in mind several regulations, quality standards, and health conditions while preparing food. School cafeteria equipment and cafeteria supplies must be procured in line with these regulations and standards to avoid incidents like allergies and the like. Regular service of the equipment and replenishment of stocks at the school lunchroom every semester are also essential to keep your school cafeteria in business. You can begin your shopping here to stock your school cafeteria with premium and high-quality kitchen equipment.