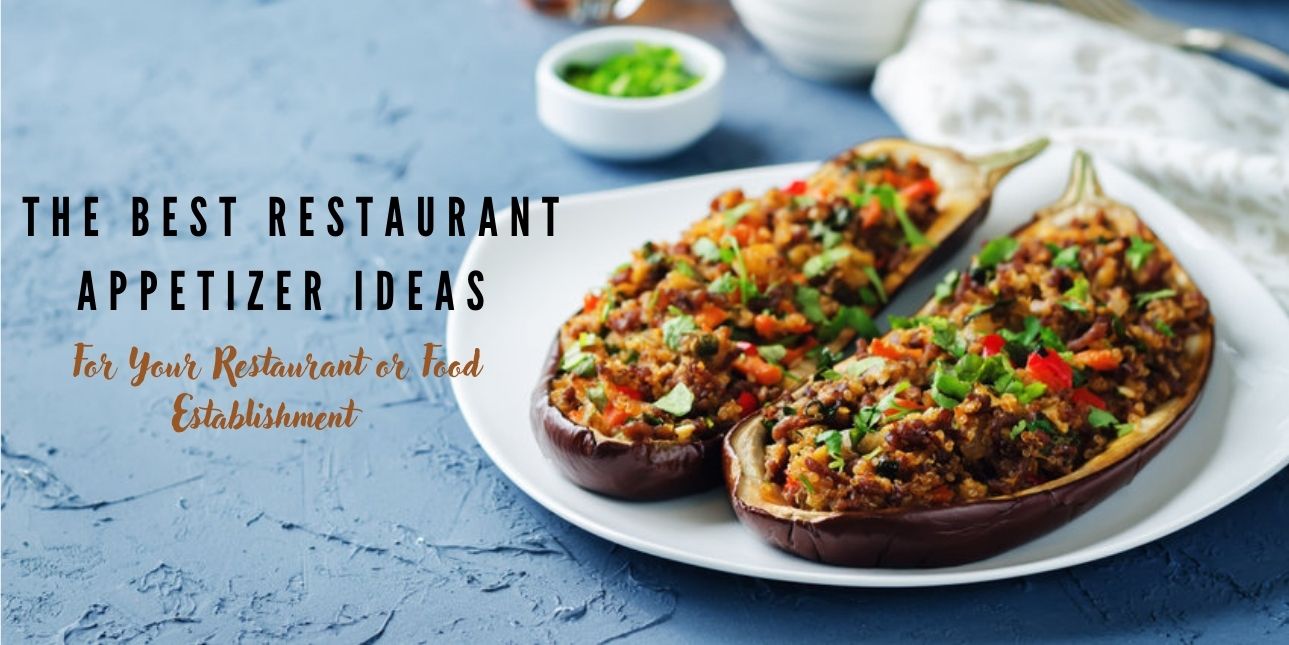 The word "appetizer" has become popular since the last century. It is derived from the French term "Hors d'Oeuvres," which also means "relishes." Initially, appetizers or relishes were used to help stimulate the digestive system before a heavy meal. Tonics, cocktails, and other beverages were served before meals, but light meals or dishes replaced appetizer drinks over time. These included vegetables, sauces, and other not-so-heavy dishes. But since the late 1950s, heavier appetizers like meat-corn pies, tamales filled with chicken or meat, and avocado salad on tortillas have become the norm. Soon, appetizers included fried chips, onion rings, buffalo wings, and other delicious appetizers. Appetizer restaurant menus included a whole variety of dishes and dips.Contemporary appetizers became heavier, fattier, cheesier, and not-so-healthy versions of their traditional counterparts.
In this article, we discuss the best restaurant appetizers menu, healthy restaurant appetizer menu, everything one must know about restaurant appetizers, and the list of essential equipment needed to make restaurant appetizers.
The Best Restaurant Appetizers Menu
Everyone is fond of appetizers, but some go to extreme lengths to order their favorite appetizers. Food connoisseurs choose restaurants and food establishments by the quality of restaurant appetizers served. Here is a list of some great restaurant appetizers for your restaurant or cafe:
Spring Roll: The Spring roll is one of the best appetizers that can be served throughout the day. Both meat-lovers and vegetarians prefer spring rolls. The most enticing factor of spring rolls is their texture, which is vibrant and evocative. The skin of spring rolls is highly tender but crisp. Vegetarian spring rolls accentuate the flavor of different types of vegetables and glass noodles. The cylindrically shaped spring rolls become chewy and delicious after they are cooked. You can also prepare chicken or meat-based spring rolls. To make chicken or meat-based spring rolls, blend vegetables, noodles, and meat thoroughly before stuffing your spring roll and cooking it in oil at 300 degrees Fahrenheit. Cook the spring roll till it turns perfectly brown and crunchy. Spring rolls are a perfect addition to the restaurant appetizer menu. You can serve fresh spring rolls with sweet chili sauce, hot spicy sauce, thousand island dip, and plum sauce.
Deep-Fried Rice Balls: Deep-fried rice balls are also known as arancini. This Italian delicacy can be a part of your restaurant appetizers menu. It is made from wet risotto, which is formed into balls of ragu, peas, and mozzarella cheese. Then the blend is rolled with bread crumbs and deep-fried in oil to make delicious appetizers for restaurants. You can alter the taste of your vegetarian arancini by adding more tomato sauce instead of ragu and you can increase the meatiness of the meat-based arancini by adding ham to the blend. Serve freshly made arancini or rice balls with salsa dips or dressings to make it a worthy restaurant appetizer.
Hot Crab Artichoke Dip: The crab artichoke appetizer is one of the most popular dishes that you can include in your appetizer restaurant. Even though the crab artichoke dip appetizer is pricier than most appetizers, it is still one of the most ordered appetizers you can add to your restaurant appetizers menu. The crab artichoke dip appetizers are made from Dungeness crab, cream cheese, mayonnaise, artichoke hearts, white onions, tabasco sauce, sherry vinegar, garlic, green onions, red pepper, celery, parsley, parmesan cheese, and mozzarella cheese.
Healthy Restaurant Appetizer Menu
Some of the most popular contemporary appetizers are deep-fried, cheesy, and unhealthy for the body. If you wish to serve healthy appetizers in your restaurant, choose from the following:
Brussels Sprouts and Grape-honey Glazed:

You can serve Brussels sprouts with sweet honey and grape juice. They provide a healthy amount of nutrients to regulate cholesterol levels and to maintain blood pressure.

Salmon Cucumber Bites

: Salmon is perfect for the eyes. It has Omega-3 fatty acids, which regulates blood pressure levels and lowers triglyceride. Salmon, when served with cucumber, helps in digestion and keeps the body healthy.

Avocado and Black Bean Salad:

The avocado, black bean, and tomato salad can be served throughout the day. You can easily add it to your restaurant's appetizers menu. This gluten-free, vegan salad is rich in fiber, healthy monounsaturated fats, and other essential nutrients. You can also blend it with any popular dips and lime to give it a zing!
Everything You Need To Know About Restaurants Appetizers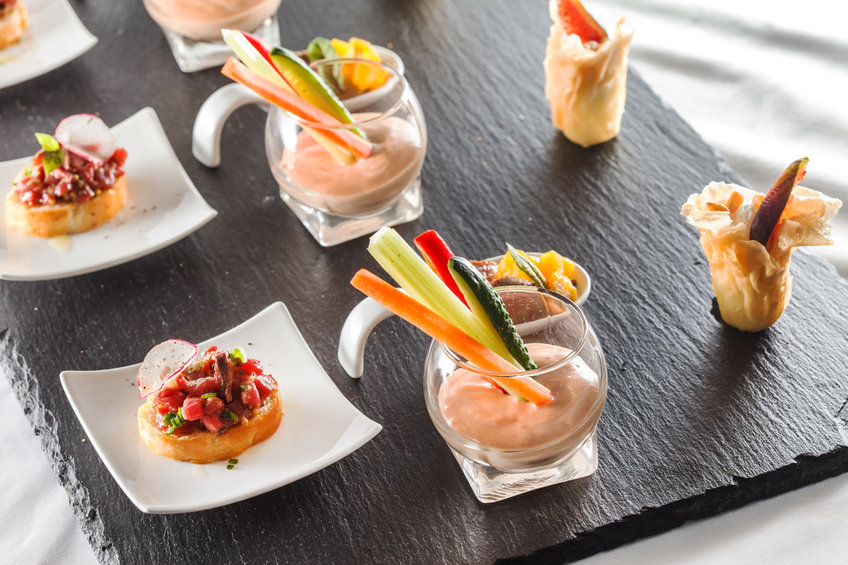 Before finalizing your restaurant appetizer menu for your establishment, you need to conduct simple market research. Analyze what the competition is selling and come up with some simple but popular restaurant appetizer ideas. You can start with choosing and finalizing different types of dips to go along with your appetizers. One of the most straightforward restaurant appetizers can be chips and salsa. You can dice vegetables, add bread, add chips, and serve two to three types of dips.
Different Types of Dips For Restaurant Appetizers
Spinach Artichoke Dip: The cheesy spinach artichoke dip is an extremely popular dip that can be served with a loaf of French bread, chips, and chicken nuggets.
Buffalo Chicken Dip: If you want to serve a spicy dip with your chicken wings or restaurant appetizers, opt for buffalo chicken dip. This modern classic is extremely smooth, buttery, and can be served with spicy hot chicken wings.
Fry Sauce: The fry sauce has been a popular dip since the 1950s. It is made from regular ketchup and mayonnaise. Fry sauce is thick, smooth, consistent, and is pink in color. It is used as a dip for restaurant appetizers like french fries, cheese balls, meatballs, and chicken wings. You can also use fry sauce as a condiment in your burgers, pizzas, sandwiches, and salads.
Blue Cheese Dip: Blue cheese dips are mostly used with salads and buffalo wings. You can make blue cheese dip from milk, sour cream, cheese, vinegar, mayonnaise, garlic powder, and onion powder.
Thousand Island Dip: Thousand island dip has been popular since the early 20th century. It is one of the most popular dressings or dips used by restaurants, fast food joints, and cafes. This creamy dressing can be served with most restaurant appetizers. You can easily create thousand island dip by blending mayonnaise, vinegar, ketchup, sugar, salt, and pepper.
Kentucky Benedictine Dip: Benedictine dip is a traditional dip that originated from Kentucky. You can make Kentucky benedictine dip from cheese, a pinch of pepper, onion and cucumber juice, and green vegetables. You can serve this delicious and unique dip with chips, vegetables, and meat appetizers.
List of Essential Equipment Needed For Making Appetizers For Restaurants
If you wish to open an appetizer restaurant or serve a restaurant appetizer menu in your existing foodservice establishment, you will need some essential commercial kitchen equipment. Here is a list of essential commercial kitchen equipment that you may need for your appetizer restaurant:
Walk-in Freezer or Refrigerator:

If you wish to store huge quantities of vegetables, fruits, condiments, meat, fish, and eggs in your establishment, then opt for

walk-in units

. You can store hundreds of pounds of raw produce and precooked food items in these units. You can also opt for

walk-in combination boxes

if you have limited space in your kitchen. These units are also highly efficient as you can use them as a freezer and cooler unit.

Deep-fryers:

To prepare deep-fried onion rings, cheese balls, french fries, buffalo wings, and other appetizers, you will need deep-fryers. You can opt for different types of deep-fryers depending upon your frying needs.

Dicers/Cutters:

Purchase high-quality dicers and cutters to cut and dice veggies evenly.

Food Processors:

To blend meat, vegetables, or sauces, opt for a high-quality food processor. With these food processors, you can increase your efficiency and serve delicious dips with your appetizers.