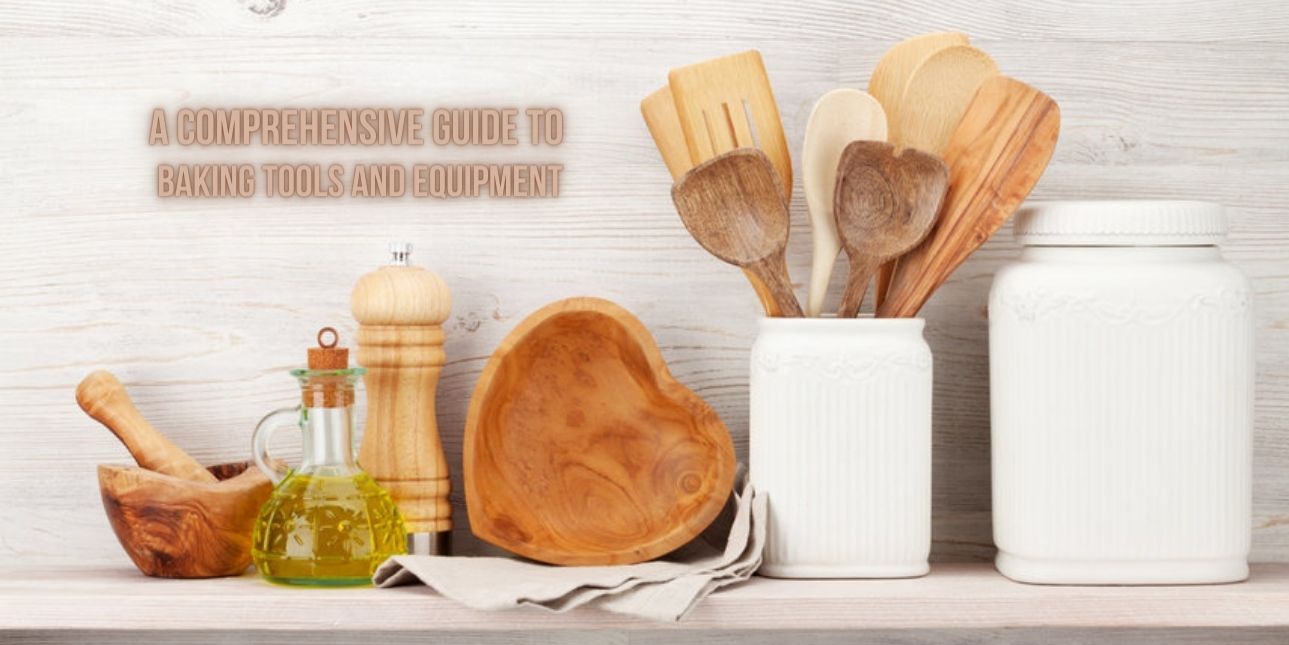 Baking tools and equipment are essential for foodservice operations that focus on providing quality offerings to their customers. Whether you're running a bakery, a patisserie, a cafe, a full-service restaurant, or a candy store, baking tools & equipment have an essential role to play. There are a number of tools in baking that can help you run the operation smoothly, ensuring all that leaves your oven is relished by every single customer. If you're looking to manage and handle the various materials in baking, these tools are your best bet and are an investment that offers great returns.
Whether you're looking to measure, mix, decorate, finish, or present your offerings, only quality baking equipment can help you achieve the desired standard. We detail the various types of equipment in baking so you can understand what you really need. By enlisting the names of baking tools and equipment, we also define their uses so you find it easy to distinguish between them. Read on to know more about these essential supplies.
Tools & Equipment for Baking Professionally
Below, we list out what are the baking tools you require to run a successful baking section in your establishment:
These tools in baking are used to measure ingredients and add them in perfect proportions. Baking is extremely sensitive to measurements, and it's important to ensure you have the right tools to help you achieve precision. Common measuring tools in baking include:
Dry Measuring Cups:

These tools allow you to measure dry ingredients such as flour, powdered sugar, and yeast. Once you've collected the ingredients in the cup, the top must be leveled against a flat surface so that you take just the exact amount required for the recipe.

Measuring Spoons:

These tools allow you to measure small quantities of ingredients and are labeled between 1/4th of a teaspoon to 1 tablespoon.

Liquid Measuring Cups:

These baking tools allow you to measure liquid ingredients without the hassle and without making a mess. A spout allows you to pour the ingredients without causing a spill or wastage. These tools also come with a handle to ensure better grip during measuring and pouring.

Digital Measuring Scale:

Many recipes rely on precise measurements, and you require a specialized tool to help you achieve the desired levels of accuracy. A digital scale can allow you to tell exactly how much flour or ingredient you have in a cup. Weight can vary depending on whether the ingredients are sifted or not, and are also prone to change based on the relative humidity on that day. Exact measurements are quintessential in such situations.




Bakeware
Bakeware involves several utensils that are placed in the oven to help you bake food. Bakeware is available in metal, ceramic, glass, and silicone options to allow business owners the convenience of choosing based on their preferences. Bakeware essentials include:
Loaf pans:

Loaf pans allow you to bake a loaf of bread in the simplest manner possible. They help you avoid making a mess, and provide shape to the dough when placed within. The result is easy to slice and package.

Cake pans:

Available in a variety of shapes, cake pans are a part of the essential baking tools and equipment list for most establishments. They're used to bake cakes, brownies, and even for recipes that just require refrigeration instead of baking. Ensure you have cake pans in various shapes and sizes for your business.

Pie pans:

Apart from cakes and bread, pies are major offerings in a baking-dominated establishment. Stock up with heavy-duty pie pans so that you can line up the displays with delicious-looking pies and quiches using top-notch materials in baking.

Muffin trays:

Equipping your establishment with a considerable number of muffin trays is integral to producing customer favorites like cupcakes and muffins. Standard muffin trays come with either 12 or 24 slots.

Sheet pans:

Every bakery requires a variety of sheet pans to function effectively. They allow you to bake in batches and produce a large number of cookies, rolls, and other confections. Sheet pans are available in three sizes, and it's important to measure your oven's size before you purchase these pieces of equipment for baking.

Butter/ Parchment paper:

Used to avoid messy post-baking cleanups for your bakeware, parchment paper is the ideal tray and pan-liner. They help prevent proteins and other ingredients from getting baked onto the surfaces of the containers and save you the effort of cleaning sticky messes.




Mixing Tools
Baking tools and equipment falling under this category help you mix together ingredients like flour, eggs, yeast, milk, and other additives. A baking section must have sufficient numbers of mixing tools to ensure hassle-free operations throughout the day. The most important mixing tools to acquire include:
Bowls:

Bowls are the most basic pieces of equipment used for mixing the various components involved in baking. Glass bowls and non-reactive metals are the best options for baking operations as they leave behind no smell or taste in the dough or batter.

Spatula:

These tools and equipment in baking are used for folding over and mixing ingredients in a uniform motion. Silicone models are the best varieties as they're nonstick, heat-resistant, and long-lasting.

Pastry blender:

If you've struggled with folding and mixing fat into flour, you need a pastry blender. These ingenious tools allow you to break down blocks of butter and other fat into dry ingredients without creating a mess.

Stand Mixers:

Uniformity in doughs and batters is quintessential when you're running a large baking operation. Kneading dough and mixing batter on such a large scale can be cumbersome for your employees. Deploying

bakery equipment and tools

like the standing mixer can help your workers save both time and effort by uniformly mixing ingredients to the required consistency. With several attachment options, standing mixers are the workhorses in a bakery.

Whisks:

Whisks are the simplest tool used to mix ingredients. They're useful in binding ingredients together in a uniform consistency and are also useful in aerating the ingredients, bringing about a fluff in the dough or batter.

Sifter:

Without sifting equipment for baking, your cakes and muffins will end up having clumps of dough within them, spoiling the end product. You can prevent this from happening by sifting all the dry ingredients during the preparation stage using high-quality sifters at your operation.




Portioning Tools
These tools in baking are commonly deployed to form and portion dough, allowing bakers to maintain uniformity in their product:
Biscuit cutter:

These tools and equipment for baking are used to cut the dough in precise shapes. They're ideal for preparing varied shapes of cookies and biscuits.

Scoops:

Scoops are extremely useful in portioning cookie and cupcake batter. Available in a number of sizes, they offer easy management of all doughs and batters made in your baking section.

Rolling pins:

Rolling pins are the simplest tool used to spread dough while maintaining uniform thickness.

Dough cutter & scraper:

These handy metal or plastic scrapers are ideal when you're shaping and portioning dough. They also help you remove any dough that's stuck to flat surfaces or on pans. Plastic and silicone options are the best when you want to get the dough off of rounded and uneven surfaces.
Apart from these essential baking tools and equipment, ensure you have quality ovens, walk-in freezers, and proofing cabinets to ensure your confections are prepared according to the highest standard. Avoid compromising on quality, and ensure you procure the most acclaimed products that fall within your budget to maintain a standard of quality in your kitchen.