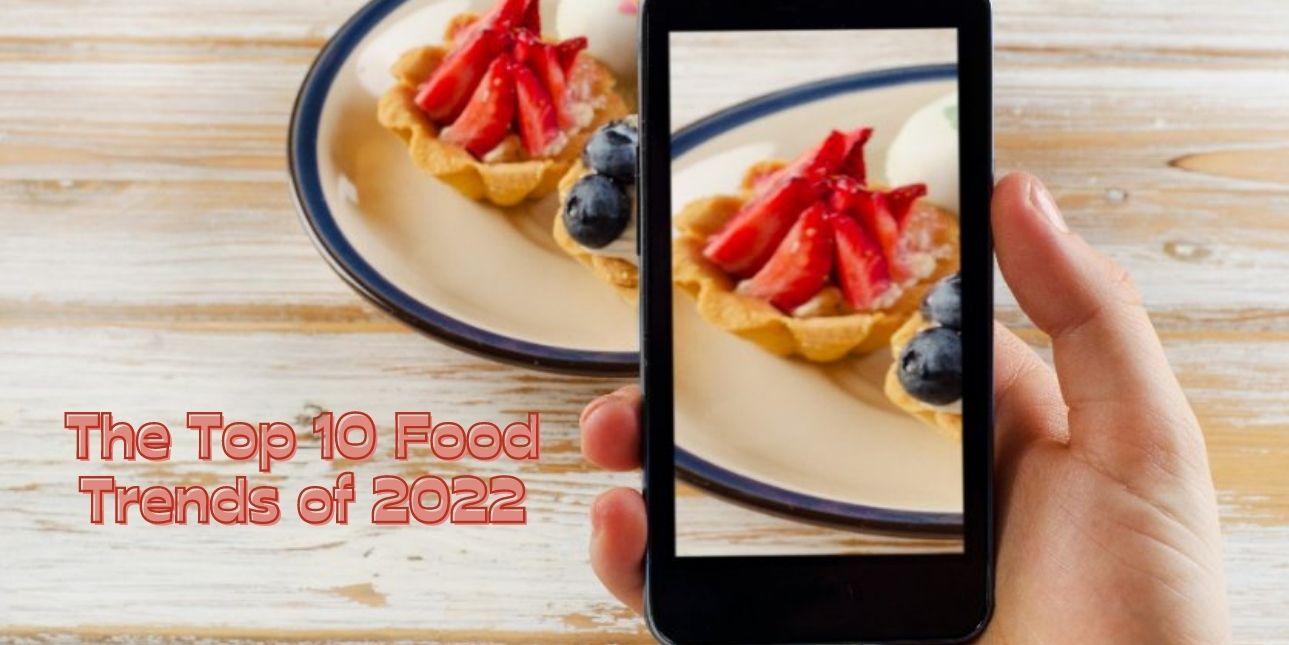 Do you want to know which food trends to look out for this year? By leveraging on these emerging food trends, you can position your restaurant as an inviting dining choice, stay relevant, and increase profitability in the face of growing competition. The digital era has enabled a huge shift in the way people view food. Social media has opened the world to international recipes, sustainable living, and conscious eating. Coming straight out of a pandemic, consumers today are very mindful of what they consume and the health benefits of their diet. After mindful eating, sustainability seems to be the essential factor for people in choosing food this year. Without further ado, let us take a closer look at the 10 food trends of 2022.
1) Gut-Friendly Food
In recent years, fermented foods like kefir, kimchi, miso, tepache, sauerkraut, and kombucha, have become popular among nutritionists due to their high probiotic content. These good bacteria not only help the gut but also help with immunity and weight loss. Due to its demand, gut-friendly food is quickly becoming a pantry staple in restaurants. Fermented food has to be stored with great precaution. Check out CKitchen's wide collection of shelves, containers, and bottles that are perfect for storage.
2) CBD-Infused Food and Beverages
The legalization of cannabis across the United States can take a while. Even so, CBD, a legally consumable active ingredient in Cannabis, has found its way into restaurant menus and is infused in popular food and beverages. Cannabis-infused dining has opened a new wave of possibilities in the restaurant industry. From lattes to beers, smoothies to salad dressings, and cakes to soft serves, CBD has touched all aspects of the menu.
3) Specialty Coffee
According to recent statistics, the total size of the specialty coffee market is forecast to reach $117.89 billion by 2028. More roasteries, cafes, and restaurants are serving specialty coffee to their customers. Social media has opened a modern image to coffee and more people are eager to learn and taste specialty coffee than ever. Customers are ditching the standard cappuccino and latte and choosing cold brews, nitro brews, and manual brews. Some manual brewing methods are pour-over coffee, syphon, Aeropress, Chemex, french press, etc.
4) Zero Waste Cuisine
The idea behind zero-waste cuisine is simple: it means respecting the ingredient and using it to its full potential to eliminate or reduce wastage. As a result of our increased awareness of the negative effects of food waste, this food trend has become more popular since people have started embracing a sustainable approach. Even in fine dining, there is a place for cauliflower leaves and ugly vegetables. Given the lifestyle that many people are choosing, this sustainable way of the kitchen has become a standard norm in the restaurant industry and is widely accepted and appreciated.
5) Plant-based Fast Food
Once considered a fad, the plant-based diet is taking over the world. Chefs who once decided not to have vegan options in their restaurants have now embraced veganism. Plant-based food is no longer french fries and salads. Vegan food has revolutionalized the food industry with its mock-meat burgers, dairy-free ice creams, chickpea chips, and tofu-skin drumsticks. Restaurants have recognized and adapted their menu to this growing market. Vegetarian food requires prepping and storing. Make sure to get the best prep tables and refrigerators, walk-in units that can help you bring the best out of your vegan menu options.
6) Local Farm-to-Table Cuisine
Even though this concept has been floating around industry kitchens for a while, a farm-to-table concept became even more prominent after the pandemic. Supporting local farmers and making food with organic seasonal ingredients and giving back to the local community is what farm-to-table is all about. Restaurants have started collaborating with their local creameries, vineyards, and local distilleries. The dairy and meat products are obtained from grass-fed, free-range local farms. The once-forgotten local vegetables are also making a comeback. This farm-to-table concept is not just beneficial to farmers, but also to restaurants that depend heavily on imported ingredients.
7) Keto or Low-Carb Food
The ketogenic diet, also known as the low-carb diet, usually comprises food rich in protein and fat. Though the keto diet has been around for a long time, it is gaining more and more popularity amongst this generation and it is definitely not going anywhere for a long time. Restaurants have adapted to this low-carb lifestyle and introduced cauliflower crust pizza, bone marrow broth, and other no-grain dishes with low-carb veggies and fruits. Keto-friendly desserts like cream cheese energy bombs, sugar-free cheesecakes, almond flour donuts, and butter ice creams are served in cafes and bakeries on a daily basis. Low-carb desserts are not difficult to make if you invest in a robust convection oven.
8) Artisanal Bread
This has definitely helped these hand-crafted buns make it to the list of trendy food. People have rediscovered herbed focaccia, crusty sourdough, and knotted bread, and are willing to pay for such artisan-style bread. Due to this emerging food trend, bakeries now have gluten-free and vegan options for bread. Whether baked or steamed, artisanal bread has become extremely popular and more people are opting for Ciabatta sandwiches and sourdough pizzas. If your restaurant is planning to make fresh bread, then you need a mixer, a proofing cabinet, a convection oven, and a shelf to store freshly baked goods.
9) Non-Alcoholic Beers
While mainstream alcohol manufacturers like Heineken and BrewDog started providing non-alcoholic beer a few years ago, smaller brands like Athletic Brewing Company, Lagunitas, and Bravus are producing non-alcoholic craft beers due to its increasing demand. According to estimates, the non-alcoholic beer market will increase from $16.65 billion in 2021 to $18.29 billion this year. Being sober is no longer considered boring and restaurants have started stocking up on booze-free drinks to cater to their customers. Be sure to check out CKitchen's beer coolers and other bar supplies.
10) In-house Sauces, Pastes, and Oils
When you think of an iconic burger or a taco, what stands out is its sauce. And these sauces are always made in-house! Restaurants have understood that condiments are a game changer. In-house ketchup, mayo, caramelized onion jam, basil-infused oil, chili oil, and syrups change the way food tastes. With thousands of restaurants to compete, one big way to stand out in the restaurant business is by making in-house pastes and condiments. Using fresh ingredients not only makes your dish special but reduces restaurant costs considerably.
Our consumers today are more conscious of what they put into their bodies. As restaurateurs, we need to update our practices and adapt our menu to current food trends. But before adding these new trends to your menu with insufficient forethought, you should step back and think about which of these new restaurant trends suits your brand.