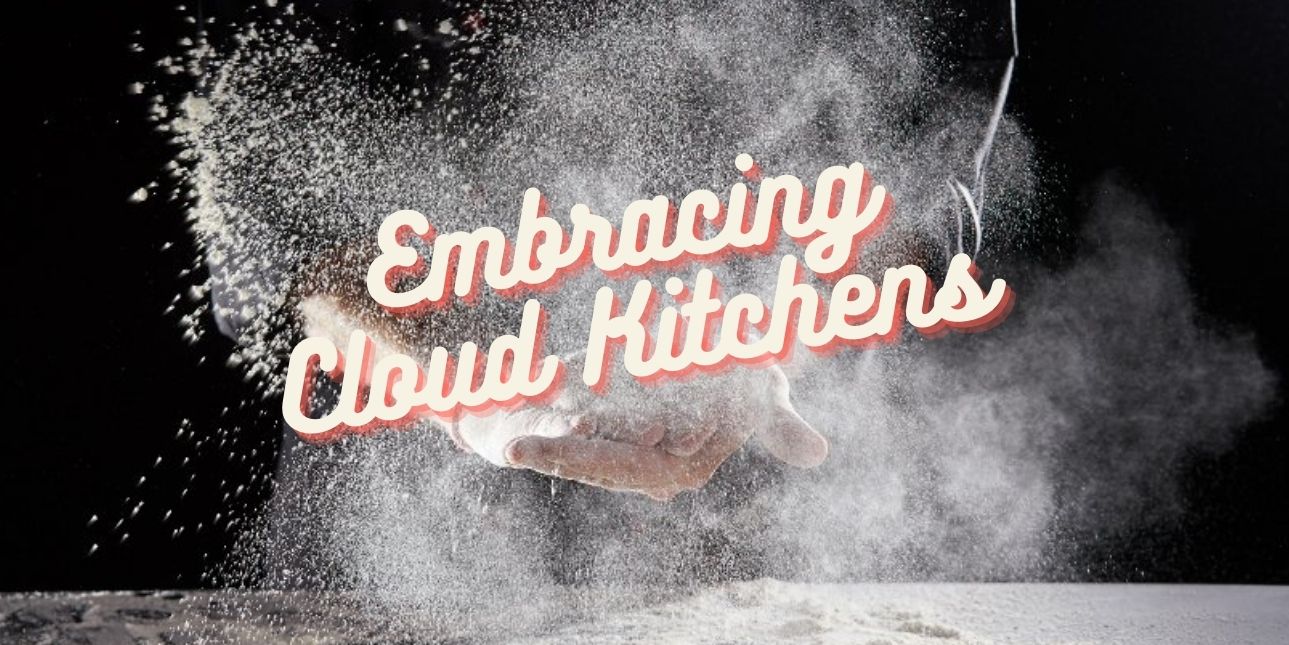 There was once a time when people only ate at restaurants. Today, however, the online food delivery model has now become the new normal. According to statistics, the COVID-19 pandemic only accelerated this trend as about 112 million people used food delivery services in 2020, which was a 17% year-over-year increase from 2019. Interestingly, the online food industry generated $26.5 billion in 2020, representing a 20% year-over-year increase. Now, after consumers have shifted their dining preference to delivery, food establishment owners cannot turn a blind eye to their needs. As Sam Walton rightly said, "There is only one boss. The customer. And he can fire everybody in the company from the chairman on down, simply by spending his money somewhere else."
According to surveys, 67% of restaurant owners are willing to open a 'cloud kitchen' as their next outlet. The pandemic undoubtedly brought unprecedented changes, affecting mental and physical health across the world, but its silver lining brought unforeseen booms in industries long overlooked. Cloud kitchens comprise one such industry. Confined within the walls of their homes, those with the means ordered their meals online. Food businesses that suffered financial losses thus opted for the shared kitchen or cloud kitchen model. So, what is a cloud kitchen?
Understanding Cloud Kitchens
Burdensome regulations, high startup costs, and COVID-19 threatened traditional food businesses in the last two years like never before. This gave online food delivery its boost. Enter cloud kitchens. What are cloud kitchens? A cloud kitchen, also known as a virtual, ghost, commissary, shared or dark kitchen, is a space used to prepare food without a dine-in facility. It is a virtual restaurant that caters only to online delivery orders. In most cases, existing management owns such kitchens and leases different portions of the space to interested business owners. Indeed, more and more food industry entrepreneurs are embracing the idea of cloud kitchens for several reasons that work in the favor of their business' growth strategy, as discussed below.
How to Start a Cloud Kitchen
Cloud kitchens are a preferred food delivery model nowadays as they save businesses money, hassle, and time. The process of kickstarting your cloud kitchen varies depending on the provider. However, the steps involved are mostly easy and quick.
Who can use cloud kitchens?
Entrepreneurs who run a catering company require space for cold and dry storage on a limited budget.

Delivery-optimized restaurants use cloud kitchens to deliver food via other delivery platforms or their website or mobile application.

Meal prep companies need kitchen space for a few days a week. For them, a shared kitchen is the most feasible business model.

Packaged food manufacturers who require extra space for storage opt for cloud kitchens.

For food product testing, a cloud kitchen is a low-capital and low-risk option.
Why should one go for a cloud kitchen?
Virtual kitchens offer food business owners the freedom to enhance food preparation processes and product marketing strategies. This is possible as the model eliminates the need to manage administrative logistics and their resulting hassle.

Traditional restaurant owners have to bear exorbitant utility bills, staff payroll, maintenance costs, and high property taxes. In cloud kitchens, owners often employ one to two cooks and can handle time-consuming tasks more efficiently.

Food businesses save money when they lease a commercial kitchen from a cloud kitchen provider. Moreover, traditional brick-and-mortar restaurants take time to develop. However, cloud kitchens can be started within days or weeks. The average cloud kitchen cost is less than traditional kitchen costs.

Ghost kitchens handle equipment repairs, health inspections, security monitoring, property taxes, and utility bills for you. This can provide you with added convenience.

Cloud kitchens are less burdened by high demand than their traditional counterparts, ensuring that your staff can easily accommodate online food delivery orders. This is beneficial given that we live in an era where consumers demand quick meal options.
The difference between cloud kitchens and traditional kitchens
Traditional restaurants require seating arrangements, a bar, a waiting area, and restrooms for employees and customers, resulting in out-of-pocket expenses and increased maintenance. A cloud kitchen provides businesses with a commercial space along with shared communal expenses. Traditional kitchens demand more staff, whereas, in a ghost kitchen, you only need a supervisor and staff to prepare food. Considering these benefits of a cloud kitchen, they also yield higher profit margins.
Cloud Kitchen Business Models: How Does a Cloud Kitchen Work?
Although all cloud kitchens have the same operation process, they have different delivery models.
In a standalone cloud kitchen, the entrepreneur rents or owns a single kitchen location without a dining facility that offers a single type of cuisine, and depends on delivery channels.

In a multi-brand cloud kitchen, multiple brands under one parent company share the kitchen and every brand is cuisine-specific.

A commissary cloud kitchen is one where many small kitchens operate in a large kitchen space with different restaurant brands. These are opened by delivery aggregators.

In an outsourced cloud kitchen, every process is outsourced. The chef only gives the final touch to the food before it's sent out for delivery.

On the other hand, a co-working cloud kitchen is a model wherein a large kitchen infrastructure has individual kitchens that are rented out to different brands. These are fitted with the required utilities and equipment.
Disadvantages of a Cloud Kitchen
Reliability on food aggregators:

Most brand owners are dependent on third-party applications to get their food delivered unless they have their own delivery application. Third-party applications charge high commissions. The restaurant does not mind paying the commission given the high volume of orders generated, however, if the commission charges are too high, they can impact business growth in the long term.

Limited PR:

Since a cloud kitchen limits interaction with customers, it hinders restaurant owners from improving their restaurant and personal brand alike. Considering that they are competing in a crowded online space, customers will not visit them regularly as they are ordering from a third-party application that has several restaurants listed on it.

Poor Retention Rate:

Customer retention suffers in the cloud kitchen model. As the restaurants deal with third-party applications, they never get to know who their customers are, which can impact sales in the longer run.
Mapping the Business Growth With a Virtual Kitchen Model
Revenue in the U.S. Online Food Industry is projected to show a CAGR (Compound Annual Growth Rate) of 8.90% between 2022-2027, leading to a market volume of US $96.50 billion by 2027. The number of users in the Online Food Delivery segment is expected to reach 217.1 million in the next five years. As per global statistics, online food delivery revenues are projected to reach $32 billion by 2024, showing a 5.1% annual growth rate.
In the age of millennials and increased internet penetration, the idea of a cloud kitchen has garnered worldwide attention and is here to stay. As we witness the next generation growing with smartphones and the internet, the industry will only grow. Given it is in its nascence, the cloud kitchen industry still has untapped potential. If you are planning to invest in the food industry and are afraid of unforeseeable risks, cloud kitchens can be your safest bet. You can save on major industry expenses with their business model. With customers increasingly preferring doorstep deliveries, we can vouch for your success. When you set up your virtual kitchen, do not forget to buy walk-in freezers, walk-in coolers, ranges, and food preparation equipment that can help prepare you for your foray into the ghost kitchen industry.
To sum it up, if benefits such as reduced maintenance and lower costs appeal to you as a business owner, it may be a great idea to consider a food service business using the cloud kitchen model.