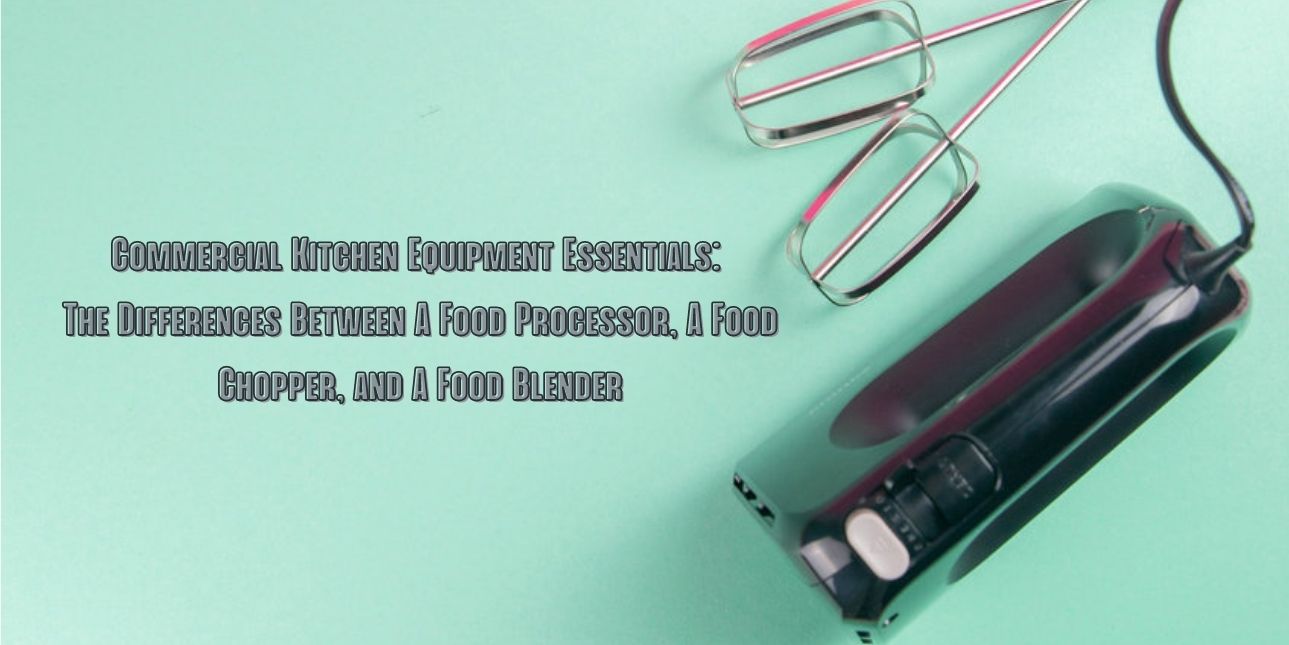 Successful foodservice establishments use high-quality commercial kitchen equipment. You can prepare food items effortlessly with commercial food processors, food choppers, and food blenders. They will help you reduce the preparation time for dishes significantly.
In this article, we discuss the essential differences between all three appliances to help you make an informed choice on the equipment you need according to your business requirements.
What Is A Food Processor?
Food processors are highly versatile commercial kitchen equipment. You can prepare various dishes with high-quality commercial food processors. You can chop, shred, and mix food items quickly with commercial food processors. They can reduce the turnaround time for preparing various dishes.
Food processors have four essential parts: plastic body, removable blades, base, and lid. Food processors also come equipped with pulse and speed controls. Pulse controls are located at the base for better operability. Food processor bodies are spacious and can accommodate large recipes. Most food processors come equipped with feed chutes. With feed chutes, you can add ingredients while blending. Food processors also come with assorted blade attachments for a multitude of tasks. With food processors, you can shred, slice, grate, chop, and mix food items effortlessly. They also come equipped with bowl inserts for performing multiple tasks in different compartments.
Food processors are specifically designed for processing dry ingredients. Liquid ingredients and partially wet ingredients can get stuck in the mixing bowl. They are perfect for medium to large-scale commercial kitchens. You can purchase a food processor for your cafe, restaurant, or institution.
What is A Food Blender?
Blenders are an essential piece of commercial kitchen equipment. Blenders are ideal for mixing solid and liquid ingredients effortlessly.
Blenders also have four primary components: pitcher, motorized base, lid, and removable blades. The blender's controls are located at the base. You can adjust the speed setting from the control switch. Commercial blenders come equipped with ergonomically designed handles and spouts for effortless pouring. The blender pitcher is mostly conical in shape and the blades of the blender can be screwed to the bottom of the pitcher. You can easily remove the blade for a hassle-free cleaning process. You can fit the lid of the pitcher perfectly, and some pitchers also come equipped with a removable plug. You can remove the plug and add additional ingredients while you blend food items.
You can use commercial food blenders to make fruits and vegetable purees. You can make delicious smoothies and soups with blended puree. Most commercial food blenders are perfect for blending liquid foods. The conical pitchers are ideal for pushing the ingredients towards the blender blades. While blending, the solid and liquid food items mix and form a downward spiral vortex. All food items are perfectly shredded and mixed.
Limitations of Blenders: Food blenders cannot function properly if you fill the pitcher to the brim. Most companies recommend filling the blender pitcher three-quarters full and essentially leaving enough space for ingredients to blend freely. Additionally, the blender blades have limited capabilities. The blades work perfectly when liquid ingredients are mixed with dry ingredients. Food blenders come with limited accessories. Purchase high-powered blenders that are more versatile than regular blenders. Most high-powered blenders come with additional attachments and accessories.
What is A Food Chopper?
With food choppers, you can chop and slice food items effortlessly. Food choppers are ideal for chopping ingredients for making salsa, chutneys, and soup. You can chop huge quantities of ingredients in a short period with food choppers. You can chop and slice hard ingredients like herbs, nuts, and meat.
You can purchase an electric or manual food chopper for your establishment. Electric choppers are ideal for medium to large-volume food service establishments. You can opt for a commercial electric food chopper for restaurants, offices, and institutions.
Food choppers are available in various shapes and sizes. Most food items need to be downsized into smaller portions before being placed in a chopper. For example, you can cut onions into quarters before placing them in a chopper. You can effortlessly chop onions, celery, carrots, and garlic for stews with food choppers. You can also dice fresh herbs for sauces.
Additionally, you can chop nuts for desserts and baked food items. Commercial food choppers can be cleaned easily with water. Some parts of commercial choppers are dishwasher safe. Always read the instruction manual before you use and clean any commercial food chopper.
Blender Vs. Food Processor: What is The Difference?
While comparing food processor vs. blender, it is essential to know the core differences between the two. Choose a food processor If you plan to ramp your kitchen's productivity by replacing manual blending tasks. If you want to make delicious smoothies and soups, then you can opt for a commercial blender for your kitchen. You can purchase both blenders and food processors for your restaurant and cafe. Some blenders can perform both tasks efficiently.
Food Chopper Vs. Food Processor: Is a Food Chopper the Same as a Food Processor?
The answer is no. Some key differences can be highlighted when we compare food processors vs. food choppers. The primary difference between a food processor and a chopper is that a food chopper essentially has one blade that can chop, puree, and blend small batches of food. At the same time, a food processor has multiple blades for various cuts.
Food choppers are also comparatively larger and come equipped with a feed tube. Some food choppers come fitted with a whisk attachment.
Food Chopper Vs. Blender
The primary difference between blender vs. food processor is that blenders are designed for blending ingredients perfectly, while food choppers are designed to dice and chop ingredients quickly. Blenders have more powerful motors designed to mix solid and liquid ingredients. Additionally, all blenders need electricity to function. Food choppers come in two different variants: manual and electric. Blenders are perfect for making smoothies, soups, and stews. Choppers are perfect for preparing ingredients for dishes. For example, you can effortlessly chop huge quantities of tomatoes, cucumber, and onions with food choppers. You can also purchase a multipurpose chopper blender for your foodservice business. There is a wide array of commercial food storage and preparation equipment that you will need for your foodservice establishment. You can purchase commercial walk-in refrigerators and coolers, walk-in freezers, ranges, and ovens for your restaurant. You can prep foods effortlessly with commercial blenders, processors, and choppers. These versatile pieces of equipment will help you prepare hundreds of dishes and beverages daily. You can chop, mix, puree, whip, emulsify, slice, shred, dice, and blend with high-quality choppers, processors, and blenders.