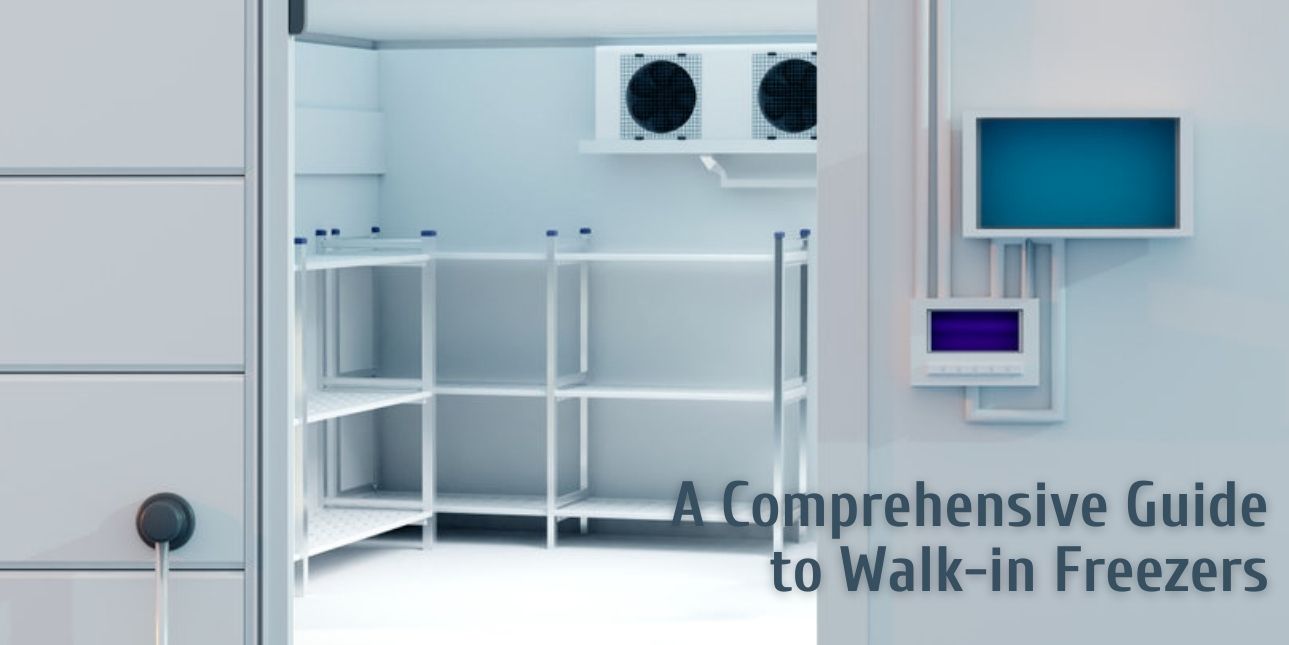 Walk-in freezers and refrigerators are some of the most efficient forms of cold storage for commercial food establishments. Whether you're running a fine-dining restaurant, a cafe, or a fast food outlet, walk-in refrigerators and freezers are the best units to store produce, meat, dairy, and other perishable items in your inventory. These machines ensure your material is kept at the optimum temperature and help you prevent losses in the long term.
Since commercial walk-in freezers and refrigerators will become integral to the operations at your establishment, it's important to understand the various factors that need to be ascertained before purchase. The right walk-in freezer can provide a reliable cold storage facility at your establishment, ensuring your raw materials are at no risk of spoilage or contamination. Read on as we discuss the various facets of restaurant walk-in freezers, and what you should know about them before you place your order.
How do Walk-in Freezers Work?
Like other models of refrigerators, walk-in refrigerators and freezers too, work on the principle of heat removal and cycling. However, contrary to popular belief, walk-in units are more efficient in their functioning and are much cheaper to run when compared to multiple smaller units of conventional refrigerators. This is due to the presence of more efficient cooling systems present within the walk-in freezers and refrigerators. Like their counterparts, commercial walk-in freezers too, have compressors that remove heat within the refrigerator and transfer it to the external environment using coils. The fan motor then circulates the air around the entirety of the refrigerator to ensure the temperature remains uniform within the walk-in unit.
The doors and other openings of walk-in freezers and refrigerators are insulated thoroughly, often with a thick layer of polyurethane gaskets, to ensure the cold air stays within the refrigerator. This also ensures that the warm air remains outside the refrigerator. Even small damages to the padding and the insulation gaskets can impact the walk-in unit negatively, and cause the compressor to work harder than it should. Frost build-ups, condensation droplets within the refrigerator, and material that doesn't feel cold enough are all signs of a malfunctioning insulation seal and must be dealt with immediately to avoid causing damage to the compressor.
Regular maintenance of walk-in units ensures that they live out their operational lifespan and do not break down due to routine wear and tear. Cleaning the internal portions of the walk-in freezers, getting the walk-in freezer's compressor unit examined regularly, and checking the insulation seals for damage at least once every year should enable your establishment to make full use of the machine without being encumbered by problems.
Essential Factors Determining a Walk-in Freezer's Utility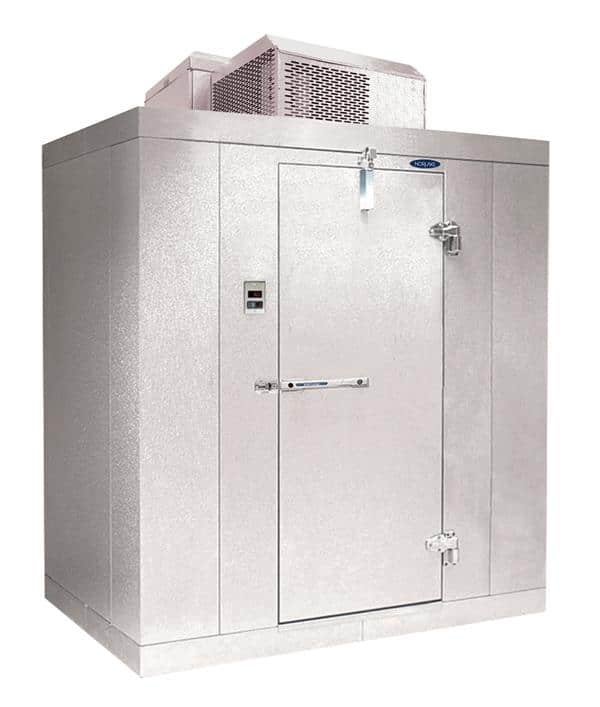 Here are some factors that you must take into consideration before you purchase a walk-in unit for your restaurant business:
Outline your establishment's requirements and what you really require. While some businesses require full-fledged walk-in freezers, some can make do with walk-in refrigerators that can help them keep their ingredients fresh. While commercial walk-in freezers function at or above 0F, walk-in refrigerators function between 35 and 41F. Based on the size of your restaurant and the number of customers you serve daily, you might require one or more walk-in units to help you store all the material you require for day-to-day operations. Make sure you outline your requirements for your restaurant's unhindered functioning.
Calculate the amount of storage required
The interior of the walk-in freezer or refrigerator will be occupied by racks, shelves, and other storage units. You will also need to leave out adequate aisle space and room for movement to allow your employees to walk in and out of the freezer. Also, take into account the airflow and the vents within the walk-in freezer. Blocking the vents will lead to improper cooling within the refrigerator and cause problems during day-to-day operations. An average restaurant requires about 1-1.5 cubic feet of cold storage space per meal served. Multiply this number by the number of meals you serve on an average working day, and add 40% to this number to account for the busy days. To have an exact idea, multiply the final number to the depth of the refrigerator model available to you to calculate the quantity of material you can store.
Make arrangements for efficient ventilation
Walk-in freezers and refrigerators work on mechanisms that rely on the seamless circulation of air within the unit. Poor ventilation will cause the compressor to work harder than it should and will lead to the walk-in freezer's compressor and evaporator wearing out far sooner than its expected lifespan. Ensure you place the walk-in freezer in a location where there is at least one foot of space at the sides, top, and rear to enable constant airflow to the unit. Ambient temperatures above 80-85F will hinder the refrigerator's functioning, so it's important to ensure ambient temperatures are kept under check.
Walk-in refrigerators and freezers are machines that also require accessories and other components to work to their full potential. Shelves, storage containers, lights, alarm systems, skid-proof flooring, and foot pedals make walk-in units a comprehensive cold-storage solution. While shelves and storage containers ensure the material you store in the refrigerator remains in an orderly fashion, lights in the walk-in unit provide visualization and accessibility. Alarm systems are safety accessories that ensure the refrigerator doors are not left unlocked for too long. On the other hand, skid-proof flooring and foot pedals are accessories for employee safety. Outfitting your walk-in refrigerator with the right accessories will help you create a fool-proof cold storage system for your establishment that can be used effortlessly by your employees during operational hours.
It's important to purchase a walk-in refrigerator or freezer that is easy to use for your staff. Complex machines tend to increase the incidence of human error and can lead to losses for your establishment. Purchasing walk-in units that are easy to program, monitor, and use are beneficial for your establishment's operational efficiency. Look for walk-in freezers that have straightforward temperature controls & displays, smoothly functioning doors, and ample safety mechanisms to ensure employee safety at your restaurant.
Pay close attention to the reviews of the models you intend on purchasing to know the experiences of other business owners who have worked with the unit. Investing in sub-standard equipment will soon turn into a liability and a financial drain on your establishment's finances. Walk-in refrigerators that are not energy efficient can inflate your running costs by consuming too much power, so it's important to ascertain the unit's energy efficiency score before you invest in a unit.
It's important to acquire legitimate warranty agreements from the manufacturer to avoid paying exorbitant amounts of money for replacement parts and maintenance. Speak to your dealer about the company's warranty policy, the availability of spares, and the maintenance schedule for the walk-in freezer or refrigerator before you invest in a particular unit. Also, enquire about extended warranty agreements and the services they cover under the terms mentioned in them. Ascertain the maintainability of your desired unit before you invest in it. Since walk-in units require regular cleaning and maintenance to comply with health and food codes, it's always better to invest in a unit that is convenient to service and clean regularly.
Now that you know exactly what to look for in a walk-in refrigerator and freezer, be sure to do your research before putting your money on one particular unit. Make a detailed list of your requirements and expectations from a walk-in refrigerator. Read through the refrigerator brochures thoroughly, and pay special attention to the specifications and dimensions of each machine. Don't hesitate to ask any questions to your dealer and make an informed decision.